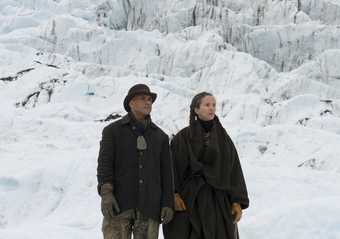 This event is part of a two-day symposium, Global Communities: Curating Modern Art Today, taking place at Tate St Ives on 26–27 April. Find out more about the full programme.
Larry Achiampong, Relic 0 2017.
4k video Co-Commissioned by Southbank Centre | Hayward Gallery & Jerwood Charitable Foundation.
Relic 0 forms part of Larry Achiampong's Relic Traveller: Phase 1, a multi-disciplinary project including performance, audio, moving-image and prose. Taking place across various landscapes and locations, the project builds upon a postcolonial perspective informed by technology, agency and the body, and narratives of migration. Relic 0, which is the prelude to the series, is a short film that moves between African and Western-based vistas and focuses on specific structures of colonialism as delivered by an anonymous narrator. The text addresses the sinister way that states of anxiety, fear and displacement are both generated and policed in postcolonial society.
Larry Achiampong's solo and collaborative projects employ imagery, spoken word and visual archives, live performance and sound to explore ideas surrounding class, cross-cultural and post-digital identity. With works that examine his communal and personal heritage – in particular, the intersection between pop culture and the postcolonial position – Achiampong digs through the vaults of history. These investigations examine constructions of 'the self' by splicing the audible and visual materials of personal and interpersonal archives, offering multiple perspectives that reveal entrenched socio-political contradictions in contemporary society.
Achiampong's recent project titled Relic Traveller is a multi-disciplinary, multi-site project that builds on themes of lost testimony, fallen empire and displacement by deconstructing the architectures of colonialism. The project is currently formed of a first phase involving an original score, two short films and installations, an audio-visual performance and a flag project which recently displayed atop Somerset House in London.
Larry Achiampong (b. 1984, UK) is a Jarman Award nominated artist (2018). He lives and works in London and has been a tutor on the Photography MA programme at the Royal College of Art since 2016.
Sasha Huber, KARAKIA – The Resetting Ceremony 2015
Video. Courtesy of the artist.
Sasha Huber travels with greenstone carver Jeff Mahuika (Kāti Māhaki, Poutini Kāi Tahu) to the Agassiz Glacier, between Kā Roimata a Hine Hukatere (Franz Josef Glacier) and Te Moeka o Tuawe (Fox Glacier) at Te Waipounamu (South Island) of Aotearoa New Zealand. On location, Mr Mahuika offers a karakia blessing to symbolically un-name the glacier of its association with the influential proponent of scientific racism, Louis Agassiz (1807–1873).
Sasha Huber is a visual artist of Swiss-Haitian heritage, born in Zurich (Switzerland) in 1975. She lives and works in Helsinki (Finland). Huber's work is primarily concerned with the politics of memory and belonging, particularly in relation to colonial residue left in the environment. Sensitive to the subtle threads connecting history and the present, she uses and responds to archival material within a layered creative practice that encompasses video, photography, collaborations with researchers, and performance-based interventions. Huber's work took a new direction in 2007 when she joined the transatlantic committee Demounting Louis Agassiz, initiated by the Swiss historian and political activist Hans Fässler. This long-term project has been concerned with unearthing and redressing the little-known history and cultural legacies of the Swiss-born naturalist and glaciologist Louis Agassiz (1807–1873), an influential proponent of scientific racism who advocated for segregation and 'racial hygiene'.
Mai-Lis Eira, Guovvamánu 6. b. 1981 (6 February 1981) 2018.
Digital video. Courtesy of the artist. Commissioned by OCA, 2018.
Mai-Lis Eira meets inhabitants from the small town of Máze in Sápmi/Northern Norway – where Eira herself is from – who participated in the Alta Action, giving central attention to the 15 women who occupied the office of Prime Minister Gro Harlem Brundtland on 6 February 1981. Together with other protest actions during this period, the occupation of the Prime Minister's office led to the establishment of the Sámi Parliament in Norway in 1989.
Mai-Lis Eira (b. 1991) is a Sámi film director who uses film and storytelling to problematise contemporary events from a Sámi perspective. She is involved in the Pile O'Sápmi project (founded by artist Máret Ánne Sara, fellow co-member of the Dáiddadállu artist collective) as director of a forthcoming film that documents the legal and artistic events around reindeer herder Jovvset Ánte Sara's court cases against the Norwegian state. She is the director of the short films Jahki ii leat jagi viellja (This Year is Not Last Year's Brother) and Turistene (The Tourists), and has produced a TV documentary for children and young adults on NRK for which she received the prize of Best Youth Programme from Northern Character in Russia.
This event is part of a two-day symposium, Global Communities: Curating Modern Art Today, taking place at Tate St Ives on 26–27 April. Find out more about the full programme.