Simon Fujiwara is a young British/Japanese artist who has been building a strong reputation over the last few years with a string of acclaimed projects around the world. Since 1982 is his most ambitious exhibition to date, and his first major show in a UK museum.
Fujiwara grew up in Carbis Bay, just a mile from St Ives, and his recent projects have increasingly explored his childhood experiences in Cornwall. For this exhibition he takes over all the spaces at Tate St Ives, presenting a series of large-scale installations, over half of which have been produced especially for this unique context. Several of these installations integrate key works from the Tate collection, including paintings by Alfred Wallis, Francis Bacon and Patrick Heron, as well as sculptures by Sarah Lucas and Barbara Hepworth.
Much of Fujiwara's work draws on his biography, creating engaging and sometimes challenging stories which mix fact and fiction to compelling and powerful effect. Using his family history, he fuses the private sphere with the social realm, blurring reality and storytelling to create a drama in which he plays the roles of multiple characters: anthropologist, novelist, and eroticist among others.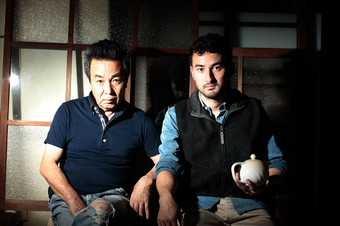 The exhibition includes important recent works such as The Mirror Stage 2009–12, an exploration of Fujiwara's adolescent encounter with a Patrick Heron painting at the opening of Tate St Ives in 1993; Welcome to the Hotel Munber 2008–10, the set for an erotic narrative which takes place in the stereotypical Spanish bar his parents ran in the 1970s; and Letters from Mexico 2010–11, a group of dispatches the artist has written to 'Europe', which discuss subjects ranging from colonialism and class inequality to sexual liberation.
In addition, the show presents a number of newly commissioned works. These include Rehearsal for a Reunion (with the Father of Pottery) 2011–12, a revisiting of Bernard Leach and Shoji Hamada's friendship in the form of a pottery workshop Fujiwara undertook with his Japanese father; Saint Simon, the Reincarnation of Judas 2012, an effigy of a South American folklore saint whose face has been replaced by that of the artist; and Mothers, of Invention 2012, a stage-like display inspired, in part, by Mary Shelley's Frankenstein and Barbara Hepworth's St Ives studio.
Simon Fujiwara (born London, 1982) lives and works in Berlin. He studied Architecture at Cambridge University from 2002 to 2005, and then Fine Art at the Städelschule Hochschule fur Bildende Kunst in Frankfurt am Main from 2006 to 2008. He has participated in several recent biennials including the Venice Biennale, 2009; Manifesta 8 and São Paulo Biennial in 2010; Singapore Biennial, Manchester International Festival, and Performa, New York, all 2011. His work has been presented at galleries around the world including The Power Plant Contemporary Art Gallery, Toronto and MOT, Tokyo.
The exhibition is accompanied by a two volume fully illustrated book designed by the artist with Chiara Figone from Archive Appendix. The publication is available in the shop priced £29.99.