Exhibitions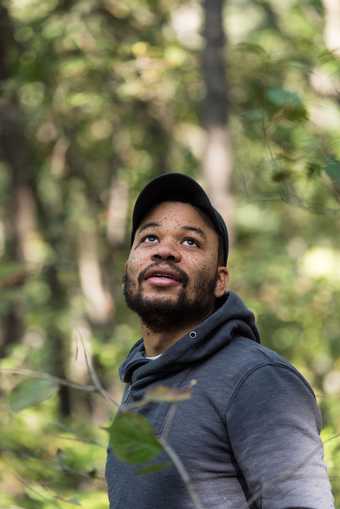 Oscar Murillo was born in La Paila, Colombia in 1986. He studied at the Royal College of Art, London and University of Westminster, London.
Solo exhibitions include: Violent Amnesia, Kettle's Yard, Cambridge (2019); Oscar Murillo | Zhang Enli, chi K11 art museum, Shanghai (2019); Capsule 07: Oscar Murillo, Haus der Kunst, Munich (2017); Dis Place, Yarat Contemporary Art Centre, Baku (2016); Condiciones aún por titular, Museo de Arte de la Universidad Nacional de Colombia, Bogotá (2015); if I was to draw a line, this journey started approximately 400km north of the equator, South London Gallery (2013). Group exhibitions include: 10th Berlin Biennale for Contemporary Art: We don't need another hero, Berlin (2018); Sharjah Biennial 13: Tamawuj, Sharjah Art Foundation, United Arab Emirates (2017); 20th Biennale of Sydney: The future is already here—it's just not evenly distributed, Sydney (2016); 56th Venice Biennale: All the World's Futures, Venice (2015).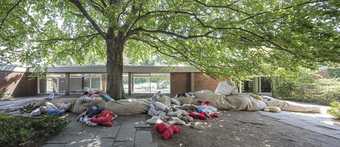 Oscar Murillo's multifaceted practice incorporates live events, drawing, sculptural installation, video, painting, bookmaking and collaborative projects with different communities. In his work, Murillo particularly explores materials, process and labour; as well as issues of migration, community, exchange and trade in today's globalised world. These concerns are deeply embedded in Murillo's personal history and creative process. The artist pushes the boundaries of materials in his work particularly in the creation of his collaged-together, unstretched canvases often made with recycled fragments from the studio. Emigrating to London from Colombia aged 11, Murillo draws on his own biography and that of his family and friends, who are often involved in his performances. References to life, culture and labour conditions in the factory town of La Paila where he grew up, reappear throughout his work.
Oscar Murillo has been nominated for Violent Amnesia at Kettle's Yard, Cambridge; Oscar Murillo/Zhang Enli at chi K11 art museum, Shanghai; and his participation in the 10th Berlin Biennale. At the Berlin Biennale, Murillo installed industrial ovens to produce sculptures made of corn mixed with clay, resembling rocks or bread, in a work addressing consumption, labour and basic human sustenance. The sculptures were piled up in heaps or bulged out of intestine-like forms, along with stuffed cloth torsos, printed with workers' slogans and international trade routes.
Murillo's Institute of Reconciliation (2014 – ), shown in his solo exhibition at Kettle's Yard Cambridge and at the chi K11 art museum, Shanghai is an ongoing work comprising multi-media installations of black canvases. This work originated from a night flight Murillo took from Tel Aviv to Baku. He became aware of a dead body in the hold, being transported home by family members, and of the plane's route to avoid conflicted territories. The black canvases are symbolic of mourning, conflict, inequality and oppression in the contemporary world.
Oscar Murillo is 33 and lives and works between London and several other locations.