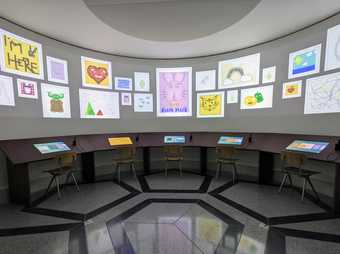 Bloomberg Philanthropies and Tate Partnership
Pioneering Digital Projects
Bloomberg Philanthropies and Tate have been in partnership since 2000, with Bloomberg's support enabling Tate to create pioneering digital projects, test out cutting-edge technology and share evergreen digital content for widespread and diverse audiences. Initially these projects were realised at Tate Modern and across Tate's online channels, however from 2022, the partnership expanded to enable digital projects at Tate Britain.
The partnership has helped to position the gallery as a leading force in the field of digital interpretation of the arts. It has also championed shared values of inclusion, education and innovation through numerous digital initiatives, engaging widespread audiences with art in new ways. Find out more about some of these digital initiatives below.
Tate Draw
In July 2022, Bloomberg Philanthropies' funding enabled Tate to launch Tate Draw, a free digital drawing tool which invites families and people of all ages to create their own digital art. Tate Draw offers a physical in-gallery experience with digital drawing bars in the Drum at Tate Britain, the Starr Foyer and Blavatnik Building Level 3 at Tate Modern, enabling visitors to create their own artworks inspired by art in the gallery. Digital artworks can be projected onto the gallery walls, saved to a phone, or worn on a t-shirt. Those keen to get creative from home can also engage with Tate Draw online, which also includes additional activities and challenges.
During Tate Draw's first year, over 550,000 new drawings were created across both galleries. A further 500,000 new drawings were created online with engagement in over 90 countries and across 6 continents, demonstrating the global reach and accessibility of this project.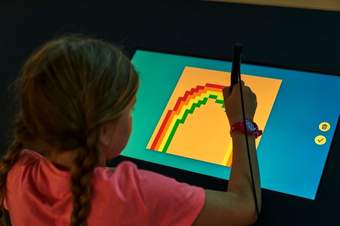 Bloomberg Supported Tate Film Content
Bloomberg Philanthropies has supported film at Tate since 2007, enabling Tate to deliver our vision of making art accessible to all, reaching international and diverse audiences through a world-renowned film programme.
Tate films invite audiences to watch short art documentaries about the lives and work of artists, as well as to discover more about art, creativity and culture, plus what happens behind-the-scenes at Tate. ​You can explore Tate film content on Tate Videos, a dedicated webpage and video archive generously supported by Bloomberg Philanthropies. You can also explore Bloomberg supported Tate Videos on Tate's Guide on Bloomberg Connects.
Bloomberg Supported Tate Kids Content
Bloomberg Philanthropies have also enabled significant Tate Kids content, supporting the education and creativity of children around the world. This has included instructional 'How To' film content, as well as films about the lives and stories of Tate collection artists.
Tate Kids is an online art destination for children aged 5-13 which hosts a variety of exciting Tate content, including films, games, quizzes and homework activities which invite younger audiences to interact with art and the stories it tells. Explore Bloomberg Philanthropies supported Tate Kids content.
Previous Digital Collaborations
There are many previous Tate digital initiatives enabled by Bloomberg Philanthropies to recognise and celebrate too. These include:
The Timeline of Modern Art at Tate Modern between 2013 and 2022. This interactive timeline invited audiences to explore the story of art from 1900 to the present day. It pulled together images of over 3,500 works of art by 750 artists, connected around a selection of 70 key movements in international art history.
Multimedia guides, mobile gaming, and 'Explore' spaces in Tate Modern. These 'Explore' spaces offered interactive experiences for visitors to discover art in Tate's collection. One Bloomberg Connects Explore space enabled visitors to explore performance art through their own movements using sensors, and another invited visitors into artists' studios around the world.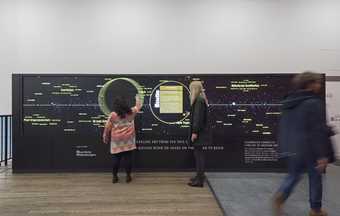 Steve McQueen Year 3
Bloomberg Philanthropies also supported Steve McQueen's Year 3 project which was on display at Tate Britain from 12 November 2019 – 31 January 2021.
In this exhibition, the Turner Prize-winning artist and Oscar-winning filmmaker, Steve McQueen, unveiled his epic portrait of London's Year 3 Pupils, of which 76,146 students from 1,504 London schools participated. Explored through the traditional school class photograph, this work is one of the most ambitious portraits of children ever undertaken in the UK.