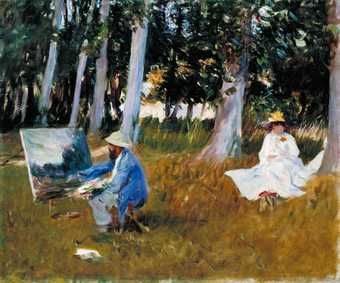 If you would like to reproduce a photograph of an artwork from Tate's collection, an item in Tate Archive, Tate photography of one of its galleries (Tate Modern, Tate Britain, Tate Liverpool, Tate St Ives) or a Tate display or commission then please contact Tate Images.
Tate Images
Tate Images is the picture library of Tate and provides access to digital photography created by Tate's Photography Department.
Tate Images grants permissions for the reproduction of these digital photographs in many varying contexts, including but not limited to, publications, displays, lectures, websites, merchandise, products, TV programmes and films.
In addition, Tate Images also clears copyright permissions for artworks on behalf of the estates of Sir Jacob Epstein, Naum Gabo, Nigel Henderson and Cecil and Elizabeth Collins, as well as some artworks in the collection where the copyright has been assigned to Tate (Francis Bacon, David Bomberg, Lucien Freud, Victor Pasmore etc.) and in photography in Tate Archive (Vanessa Bell, Eileen Agar, Tom Picton etc.).
Online
Visit our secure Tate Images website where you can:
Search and browse photographs of Tate's art collection, archives, displays, commissions and galleries
Obtain a quote for the use of a Tate photograph via a simple pricing calculator
Purchase a license and download digital photographs of out-of copyright artworks
Request photographs of artworks not-visible online
Create lightboxes for projects and download low-resolution digital photographs for layout purposes only
Licensing Service
Tate Images friendly and experienced team are happy to help with your request and have in-depth knowledge of the collection, artistic copyright, licensing and photography; they can advise on all aspects of licensing photographs.
We have:
Fee Rates to suit all types of usages
Authorised photography: Digital photographs (300dpi, compressed jpgs, RGB, 8 bit) are available for the majority of editorial usages
For more information please see the Help and About Us pages on Tate Images or contact Tate Images directly.
Contact us
Tate Images is open from 9.30 to 18.00, Monday to Friday.
email: tate.images@tate.org.uk
Tel: +44 (0)20 7887 8979
Tate Images
Milbank
London
SW1P 4RG
United Kingdom