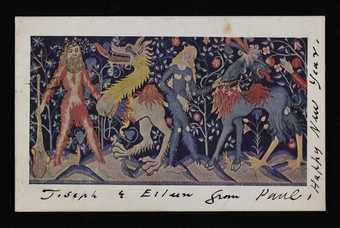 Tate Archive collects and makes accessible a wealth of material primarily relating to the history of British art from 1900 to the present.
Located at Tate Britain, the collections comprise materials such as letters, diaries and financial records, sketches, photographs, exhibition histories, audio visual material (including conference recordings, oral histories, and Audio Arts issues) and increasingly, born-digital material – all of which relate to artists, art practice, and art world figures and organisations.
To consult the collections, you will just need to book an appointment to visit the Reading Rooms at Tate Britain (find out more about how to plan your visit).
Before you visit, you can search for materials of interest from the catalogued holdings by using the online catalogue, and you can browse a range of digitally available items on our website.
Tate Archive is free to use and open to everyone aged 18 or over. To make access arrangements for those aged under 18, or for general enquiries about accessing the catalogued collections, please contact reading.rooms@tate.org.uk or call +44 0)20 7887 8838.