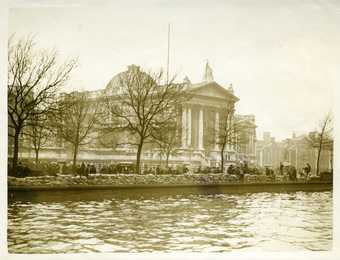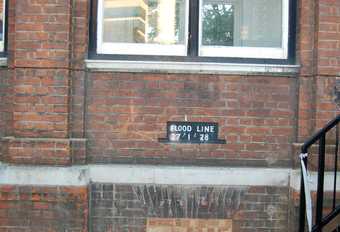 In the early hours of the 7 January 1928 the River Thames flooded. Bursting its banks at Lambeth, the force of the water demolished a stretch of the parapet wall 50 metres long. It left 14 people dead and an estimated 4,000 people homeless across London.
As the river wall opposite Tate Britain collapsed the water surged across the road flooding the nine lower ground floor galleries and the basement. The situation wasn't helped by a large amount of water that found its way up through the gallery floor from vaults incompletely filled following the 1892 demolition of Milbank's previous occupant, Millbank prison.
18 works were damaged beyond repair, 226 oil paintings were badly damaged and a further 67 slightly damaged. The J.M.W. Turner works on paper stored in the basement were saturated and covered in mud although fortunately their colours hadn't run. Incredibly, the newly completed Whistler mural in the Tate Restaurant remained undamaged although it too had been completely submerged.
Through the morning of that day, efforts to recover paintings and drawings from the water ensued and the rescue efforts weren't restricted just to the artworks; director Charles Aitken also had to be rescued after he was completely submerged having fallen down a flooded manhole whilst wading through the muddy water.
Included among Tate's Public Records of the 1928 flood kept in the Library & Archive we have several reports on the extent of the flood damage along with various lists of paintings, indicating their condition. Accompanying these we also have a small group of four photographs showing the rescue efforts.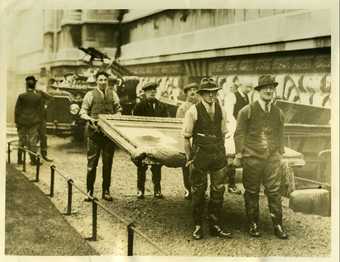 Of the four photographs, this picture (above) seems to capture most people's interest and has encouraged some speculation on the identity of the large painting being carried. Amongst the suggestions we've received for its identity have been Turner's The Goddess of Discord Choosing the Apple of Contention in the Garden of the Hesperides and John Martin's The Destruction of Pompei and Herculaneum. Whilst its identity remains uncertain it has been reliably estimated that the height of the painting's frame is approximately 1600 mm and further suggestions to its identity are welcome.
Thames flood warnings continued over the years, notably in February 1953, although fortunately these passed without incident at Millbank.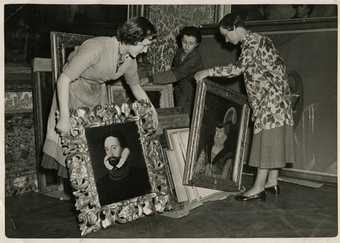 Here, George Gower's Sir Thomas Kytson and Lady Kytson have just been carried to safety from the lower ground floor following the flood warning in February 1953.
In 1982 the Thames Barrier was completed but by then tanking of the lower ground floor galleries and storage areas was already in place; alleviating the risk to the gallery and the collection if such a flood ever were to happen again.