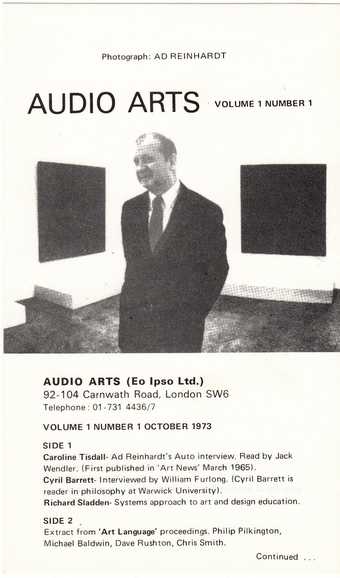 The Audio Arts archive
William Furlong belonged to the generation of British artists such as Gilbert & George, Bruce McLean and Richard Long, who explored new concepts of sculpture. Furlong developed the use of sound as a medium and has himself become synonymous with the use of audio in art.
In 1973 William Furlong and Barry Barker established Audio Arts as a cassette-based audio magazine. It provided a dedicated space for artists and art-world professionals to speak about their work in a free and unmediated way.
Audio Arts sought to document contemporary artistic activity by recording artists' voices, generally captured in close proximity to their work. It developed to comprise interviews with artists and curators, commentary by artists on their works, documentation of major international art events, collaborations with artists, sound performances and other sound works.
The magazine was in continuous publication for 33 years and ran to 24 volumes, each of four issues, alongside more than 60 supplements. It recognised the potential of the then relatively new audio-cassette technology, which enabled the production of the sound magazine at a low cost and allowed for relatively easy international distribution.
Audio Arts arguably represents the most comprehensive and coherently-focused sound archive devoted to art and artists in the world, featuring exclusive contributions from more than 900 individual artists including Joseph Beuys, Ian Breakwell, Tracey Emin and Andy Warhol.
The volumes and supplements from Audio Arts have been digitised and published online, alongside selected archive images for each audio-cassette.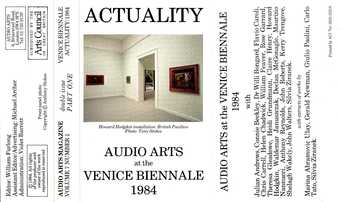 Audio Arts in the Tate Archive
Tate Archive acquired the Audio Arts archive in 2004 (TGA 200414). It amounts to more than 350 boxes of material relating to the inception, creation and production of the audio magazine.
The collection comprises paper records – including correspondence, research files and accounts – rare exhibition catalogues, private view cards, photographs, production equipment and of course the published and original audio recordings in a variety of formats including reel to reel tapes (5, 7 and 10 inch), cassettes, DAT tapes, CDs and MPEGs.
Acknowledgements for digitising Audio Arts
It was only through the generous funding of the Rootstein Hopkins Foundation (RHF) that the cataloguing, conservation and dissemination of this unique resource was made possible.
This online resource, featuring all the published versions of the magazine, is the culmination of their support following a two-year cataloguing and preservation programme undertaken by Allison Foster and Jack Maynard, who organised – with colleagues in Tate Learning – and took part in a highly successful 'Off the record' conference, held at Tate Britain on 13 October 2010.
We would also like to thank Bill and Violet Furlong who have provided invaluable assistance and guidance throughout the project, not only by greatly enhancing the catalogue entries but also by ensuring that the audio material is preserved in such a way that each technical process was meticulously documented.
Copyright disclaimer
Every effort has been made to obtain consent from copyright holders. We apologise for any inadvertent infringement, and invite the relevant copyright holders to contact us at copyright@tate.org.uk