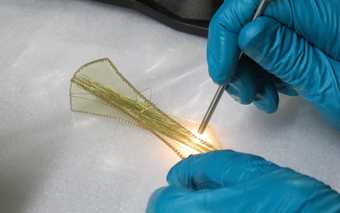 COMPLEX is an interdisciplinary project which aims to understand and manage the degradation of plastics in museum collections. COMPLEX explores a system dynamics approach to polymer degradation in order to provide evidence-based strategies for storing and displaying plastic objects in museums, to minimise inevitable changes.
The development of system dynamics models will provide significant insight into the complicated functional mechanisms that govern the behaviour of objects. Scientists from the Institute for Sustainable Heritage at UCL work in collaboration with conservation scientists and conservators from Tate, conservators at the Museum of London and external industrial partners such as Lacerta Technologies and Process Systems Enterprise to understand these mechanisms and to provide practical solutions for heritage professionals.
Major goals of the project are to understand the complex physicochemical processes that take part in plastic degradation, the way these processes depend upon environmental factors such as light exposure, temperature and relative humidity and the way they act synergistically affecting degradation over time. The identification of the key parameters that affect change in objects over time could assist museums in developing innovative preservation techniques to maintain the integrity and the value of plastic objects in their collections and to make informed decisions about methods of displaying, storing and conserving plastic objects.
In the long-term, these practices could change or create policies in terms of storing and displaying plastic objects in museums and galleries, after being thoroughly validated.
Project Information
Project leader
Dr Katherine Curran, UCL Institute for Sustainable Heritage
Project team at Tate
Dr Joyce Townsend, Senior Conservation Scientist
Deborah Cane, Conservation Manager, Sculpture & Installations
Dr Bronwyn Ormsby, Principal Conservation Scientist
Dr Judith Lee, Conservation Scientist
'COMPLEX: The Degradation of Complex Modern Polymeric Objects in Heritage Collections: A System Dynamics Approach' is funded through an European Research Council Starting Grant to Dr Katherine Curran (UCL) under the European Union's Horizon 2020 research and innovation programme (grant agreement No 716390).