As part of the exhibition Joshua Reynolds: The Creation of Celebrity, shown at Tate Britain in 2005, the curators chose to display a large marble statue of Reynolds by the sculptor John Henry Foley. The sculpture had not been displayed for several decades and was known to be extremely dirty.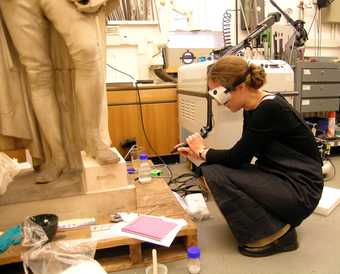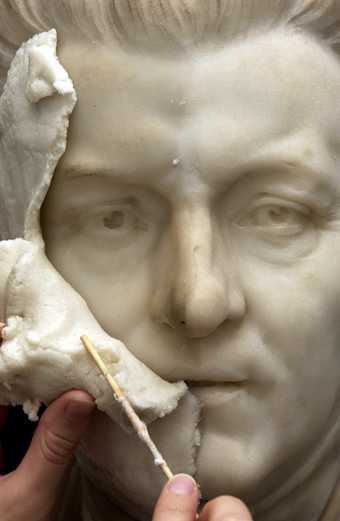 Original condition of the sculpture
Made of one block of carved white marble, the sculpture is a larger than life, full length portrait of Reynolds as President of the Royal Academy. It was covered in a sooty, greasy black-brown dirt, with yellowed areas. This had been caused by frequent handling. There were also spatters of red paint on the cloak the artist is shown wearing. Examination under ultraviolet light showed that no previous coatings of paint were present.
Cleaning the sculpture using a poultice
The sculpture was vacuumed to remove loose dust and dirt. Tests were then carried out using several different cleaning methods which included steam cleaning, laser cleaning, detergent solutions, solvents and poultices. Each method's effectiveness at cleaning the sculpture, without damaging the marble, was assessed.
The cleaning method eventually chosen was a poultice. This was, in effect, a cleansing pack attached to the statue. It contained a buffer and agents to increase its adherence to the near vertical surfaces. The poultice was left on the sculpture for three and a half hours; once it was removed the surface was cleaned with a buffered solution. Very dirty areas had a buffered gel applied to remove the yellow discolouration. The red paint marks were removed using solvents.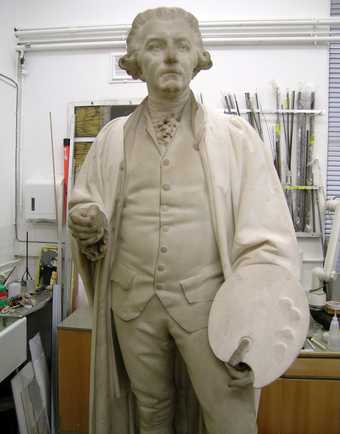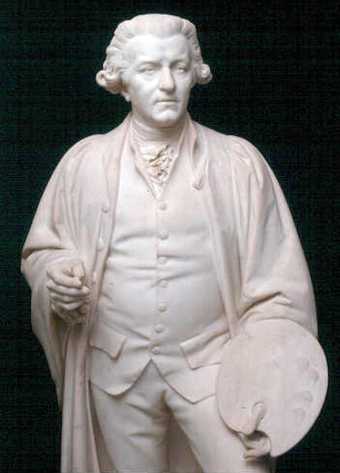 Disguising a drill hole
The cleaning process revealed a discoloured wax fill on the face of the sculpture, which appeared to be a drill hole. This hole could have been made during measuring up of the sculpture or it may have been purposely drilled in order to remove a disfiguring stain in the marble. Tate's conservators decided to disguise the discolouration by removing the top layer of wax and applying a removable plug of material coloured to match the appearance of the marble.
References
P. Rockwell, The Complete Marble Sleuth, 2004
Aldrovandi et al, Laser cleaning: A study on greyish alteration induced on non patinated marbles, in Journal of Cultural Heritage, vol. 1, 2000, pp.S55-S60
Richard Livingstone, Geochemical considerations in the cleaning of carbonate stone in Stone Cleaning and the nature, soiling and decay mechanisms of stone, 1992
M. Cooper, Laser Cleaning in Conservation, 1998
Laser Cleaning Course Notes, Liverpool Conservation Centre, 2004
Instructions for Nd-YAG Laser, Lynton Lasers 2004