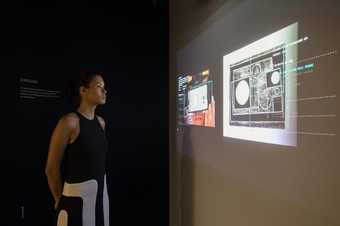 Awarded to an individual, team or company for project proposal in response to an annually changing brief - following an ideas shortlisting and proposal scoping process - the winners receive a production budget to realise the project online and at Tate Britain.
Details of future competitions are yet to be confirmed; check back on this page for announcements.
IK Prize 2016
The 2016 IK Prize, in partnership with Microsoft, challenged digital creatives to use a form of artificial intelligence to allow the public to explore, investigate or 'understand' British art in the Tate collection in new ways. An expert panel of judges selected a shortlisted four ideas in response to a brief on artificial intelligence. They included a proposal to give artworks the power to daydream, an intelligent machine comparing artworks with the never-ending stream of images from across the internet, an A.I. artist-in-residence learning to create art, and an experiment to see if a machine can learn to describe artworks as well as humans.
The Jury
Paul Bennun
Co-owner and Chief Creative Officer of Somethin' Else, a content design and creation company based in London
Alex Farquharson
Director of Tate Britain
Eric Horvitz
Computer Scientist and managing director of the Microsoft Research lab at Redmond
Marguerite Humeau
An artist with work in MoMA's permanent collection
Aleks Krotoski
Broadcaster for the BBC and Channel 4, with fellowships at Oxford and LSE
The Shortlist
The Winner