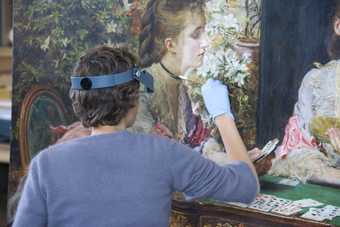 A painting in poor aesthetic condition
Since its acquisition in 1945, the aesthetic condition of the painting has suffered owing to discoloured natural resin varnish layers which flattened the composition and distorted the colours radically. Like J.M.W. Turner and Sir Joshua Reynolds, Millais's paintings have a reputation among conservators for being difficult to clean, due in part to the way the artist layered and mixed resin in with his oil media.
Extensive analysis to find the best method to remove the varnish
Trepidation at the start of treatment led to more extensive testing and analysis than usual, much of it carried out under a stereo-microscope. Minute samples of paint were taken by Joyce Townsend (Conservation Science) to study the layering structure of the painting, and UV fluorescence was used to distinguish between varnish, wax and paint layers. 
As anticipated the numerous tests found sensitive black, brown and green pigments. It took several weeks to find an appropriate method of removing the varnish while protecting the original paint surface. 
Painstaking conservation
The painstaking treatment carried out by Natasha Duff (Paintings Conservation) took five months to complete and has resulted in returning the image to an appearance closer to when it was painted in 1872.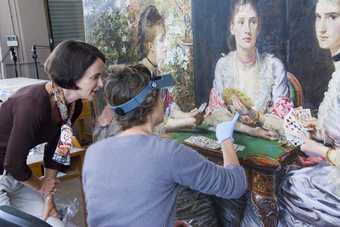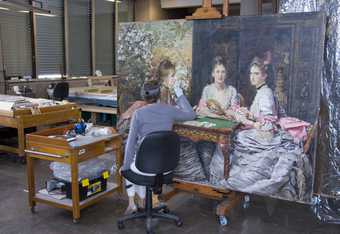 Most who know Hearts are Trumps as an icon of the Tate collection, including the longest serving members of Tate staff, only recall it looking flat and dirty. Many are now amazed at the restored depth, vibrancy of colour and lively impressionistic brushwork never seen before at Tate.
Alongside treatment of the painting, the frame, probably the original for the painting, was restored by Alastair Johnson (Frame Conservation).