Twentieth- and twenty-first-century oil paintings and painted surfaces present a range of complex treatment challenges to conservators that are distinct from those noted from previous centuries. These include the formation of 'surface skins' of medium on painted surfaces, efflorescence, unpredictable water and solvent sensitivity and the recent phenomena where previously stable surfaces begin to drip. Modern oil paints are used by artists in the creation of paintings and sculpture and many of these surfaces are unvarnished and exposed directly to the environment.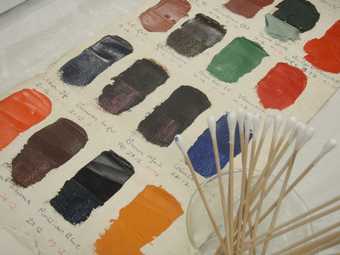 In response to the need for research in this area, Tate, the Courtauld Institute of Art, the Getty Conservation Institute, the Cultural Heritage Agency of the Netherlands and Hamilton Kerr Institute have come together and committed to work collaboratively to address these issues.
These five organisations have signed a memorandum of understanding formalising this commitment to work together and to share knowledge about:
Chemical and physical properties of modern oil paints and their behaviour over time;
Development of treatments;
Research relating to the use of these materials by artists;
Production and take up of modern oil paints in the twentieth and twenty first centuries.
The members of the consortium will meet regularly to exchange information on current research and will also seek opportunities to develop scholarly research, create opportunities for the exchange of staff and the sharing of equipment. They will also look for ways of communicating new developments via conferences, symposia and publications. 
If you have any questions regarding the consortium, or about how to become an associate member please email MORC@tate.org.uk.
A discussion on practice and problems – A public event
Read a full report here on the public event jointly organised by MORC and CMOP – Cleaning Modern Oil Paints, at Tate Britain, London on Friday 11 November 2016.
Consortium partners
Courtauld Institute of Art
Professor Aviva Burnstock, Head of the Department of Conservation & Technology
Cultural Heritage Agency of the Netherlands (RCE)
Prof. dr. Klaas Jan van den Berg, Senior Conservation Scientist
Getty Conservation Institute
Dr Tom Learner, Head of Science
Hamilton Kerr Institute
Dr Spike Bucklow, Senior Research Scientist
Tate
Dr Bronwyn Ormsby, Principal Conservation Scientist
Professor Pip Laurenson, Head of Collection Care Research