Architecture
Like the original Tate Modern, the new building is designed by Herzog & de Meuron and will present a striking combination of the raw and the refined, found industrial spaces and 21st century architecture.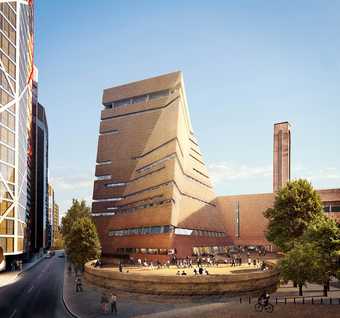 The façade will use brick to match the surface of the existing structure, while creating something radically new – a perforated brick lattice through which the interior lights will glow in the evening. Windows and the terrace will appear as cuts in the brick surface. The building will rise 64.5 metres above ground in 11 levels, its height responding to the iconic chimney of Giles Gilbert Scott's power station.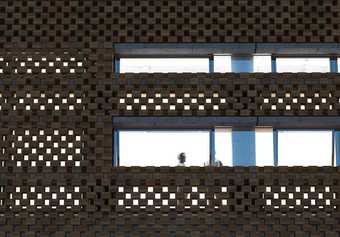 If the Turbine Hall was the defining emblem of Tate Modern's first stage, the vast oil tanks, at the base of the building, will become as closely associated with the new building. These raw industrial spaces will retain their rough-edged atmosphere to become an unforgettable performance and exhibition venue.
Beautiful new galleries displaying the Collection will have a greater variation of sizes and shapes than the original museum, and there will be a larger space for temporary exhibitions. Tate Exchange will enable groups to exchange skills and ideas, there will be new seminar spaces, and a cutting-edge Media Lab. Social spaces will include a new Members Room, a Level 10 restaurant, and a public terrace on Level 11 all with outstanding views across the capital.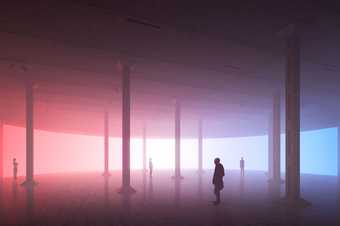 Sustainability
The building will be a model of environmental sustainability, setting new benchmarks for museums and galleries in the UK.
It will draw much of its energy needs from heat emitted by EDF's transformers in the adjoining operational Blavatnik Building. With a high thermal mass, frequent use of natural ventilation, and utilisation of daylight, the new building will use 54% less energy and generate 44% less carbon than current building regulations demand.
The architects
Herzog & de Meuron is a partnership led by five Senior Partners – Jacques Herzog, Pierre de Meuron, Christine Binswanger, Ascan Mergenthaler and Stefan Marbach. Jacques Herzog and Pierre de Meuron established their office in Basel in 1978. The practice now has additional offices in London, Hamburg, Madrid, New York and Hong Kong. Herzog & de Meuron have designed a wide range of projects from the small scale of a private home to the large scale of urban design.
While many of their projects are highly recognized public facilities, such as their stadiums and museums, they have also completed several distinguished private projects including apartment buildings, offices and factories. The practice has been awarded numerous prizes including The Pritzker Prize in 2001, the RIBA Royal Gold Medal and the Praemium Imperiale both in 2007.
Recent projects include the Pérez Art Museum Miami, USA (2013); the New Hall for Messe Basel, Switzerland (2013); the Parrish Art Museum in Water Mill, New York, USA (2012); the Blavatnik School of Government in Oxford, UK (planned completion 2015) and the Elbphilharmonie Hamburg, Germany (planned completion 2016).