The Tanks
Ambitious and imaginative installations are pushing traditional gallery spaces to their limits. When Tate Modern opened in 2000 there were 86 large-scale installations in the collection; now there are more than 300.
The three awe-inspiring oil tanks at the foundation of the new building will provide a unique raw industrial space to display large-scale artists' installations, as well as performances and film.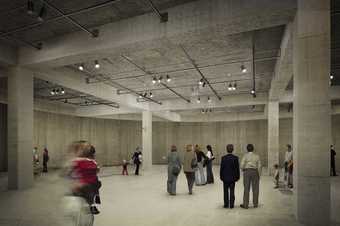 Three new galleries will also be created from raw 'as-found' spaces adjacent to the oil tanks. Space which would have originally contained Bankside Power Station's ancillary plant and equipment.
Installation programme in the new spaces
Tank 1 will be programmed with changing displays, exhibitions and radical commissions of contemporary art. Tank 2 will be used for performances and events, complementing the display programme in Tank 1. Supporting facilities such as green rooms will be located in Tank 3.
Taken together, the oil tanks and 'as-found' galleries will place the exploration of contemporary visual art practice, and its resonance in performance and contemporary thought, at the foundation of the transformed Tate Modern.