Landscaped spaces outside the new building
A new walkway through the building will link the City to the heart of Southwark.
Two landscaped areas either side of the building will provide tranquil places for everyone to use. There will be an elegant piazza with a café and bookshop, adjoined by an undulated landscape of trees and lawns and a large area to the west will offer a peaceful setting where visitors and local residents can sit and relax.
A new planted area on the eastern side will be created for the use of the local community and staff. The landscape facing the river remains and will continue to be used for large-scaled events.
Social spaces in the new building
The top three floors of the new building are spaces dedicated to the enjoyment of all our visitors. At the top of the building the public terrace will offer spectacular views over the River Thames and the restaurant below will provide great food and wine.
A new Tate Members lounge will meet the needs of our growing membership. Divided into different areas, the lounge will offer spaces for eating, spaces for families to relax and areas for the quiet reflection of your visit, with further views across the river.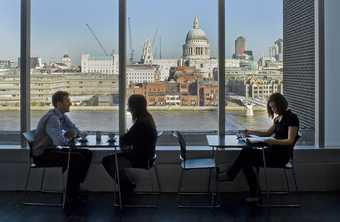 A ceremonial boulevard winds up through the new building with small landings and enclaves for more private meeting places and resting points.