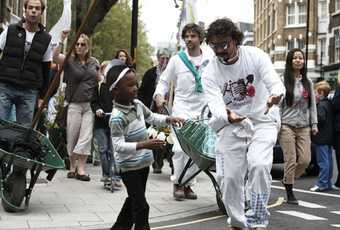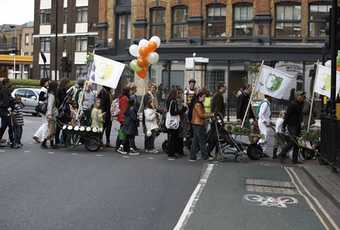 Coloco and Exyzt (Saturday)
Coloco and Exyzt are an art collective from Paris who collaborated with Tate Modern to create the Bankside Birthday Barrows Parade – a music-filled wheelbarrow parade that celebrated urban nature and community activity. Participants were invited to dress in bright colours with scooters, buggies or mobility vehicles and join the procession led by the London School of Samba. Wheelbarrows were filled with plants, seeds and tools to be planted in each of the gardens cared for by Bankside Open Spaces Trust along the way. The parade began at Tate Modern's Turbine Hall, making its way through the community garden and ended in Red Cross Garden where tea and cake was served.
Bankside Views (Sunday)
On Sunday, Tate Modern's birthday celebrations continued with Bankside Views. Artist collective Black Dogs invited local Bankside residents to bring along an object or image that represents their relationship to the gallery, to be displayed for the afternoon and incorporated into an online record.