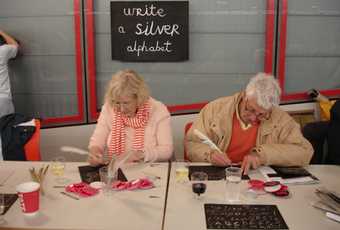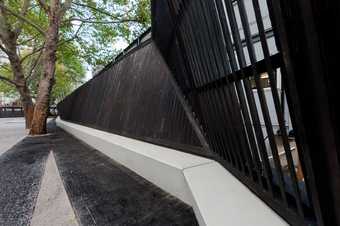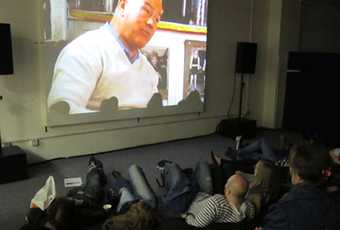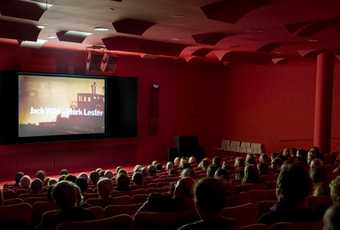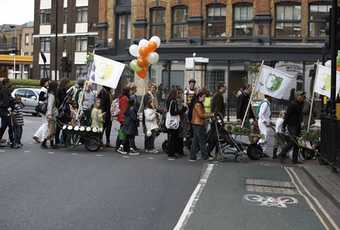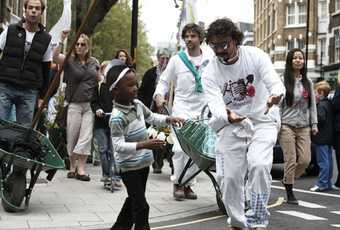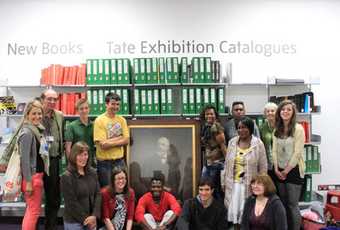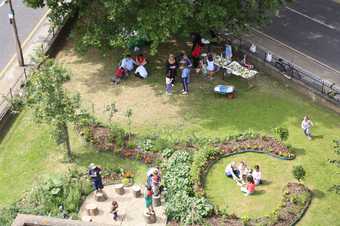 Tate Local
Tate Local aims to work with community groups and individuals living in Southwark and Lambeth to offer opportunities to be involved and offer inspiring ways to learn about the Tate Modern Project through a series of projects with contemporary artists.
Past projects
Social Cement, 2016-17
A project by artist Lucy Harrison, exploring some of the activities, ideas, food, drink and music that bring communities together in South London.
Through the autumn and winter, a collaborative programme of events, talks and workshops enlivens the new community space at Tate Modern, exchanging ideas and information about community activities in Lambeth and Southwark and exploring how people can engage with the space and the rest of the new building.
Congregation: Chloe Dewe Mathews, 2014
Skirt of the Black Mouth, Summer 2012
Exploring the potential of the south landscape of the Tate Modern project artists Heather and Ivan Morison have created Skirt of the Black Mouth. It begins with a rethinking of the traditional hoarding, using it as a sculptural element to redefine the space it frames, leaving glimpses of what lies behind.
Walkways, Summer 2012
A series of urban performances developed by FrenchMottershead with local Southwark residents.
Tate Local Writes, Summer 2012
Renowned poet Inua Ellams has spent met a variety of people working on the Tate Modern project. Inspired by these various conversations and time spent exploring the site he has written three poems about the characters behind this exciting project.
South London Black Music Archive, 2012
Following its successful commission by Peckham Space in 2012, this exhibition by artist Barby Asante celebrated South Londoners' personal relationships with important moments in black music history.
Trailing Henry, 2011
Trailing Henry took local residents on a journey exploring the life and philanthropic legacy of Henry Tate. A group of Brixton Library visitors had the chance to visit his home, see paintings from Henry Tate's original collection at Tate Britain and visit the Tate and Lyle Thames refinery in East London.  
The Elder Project, 2011
Tate Modern teamed up with Invisible Food and some participants from Kids Company to identify Elderflowers in the area and learn how to cook and eat it in different ways. Participants made Elderflower cordial and Strawberry and elderflower jam. 
No Soul for Sale, 2010
To celebrate Tate Modern's 10th anniversary, Tate Modern hosted No Soul For Sale – A Festival of Independents 10–16 May 2010. Tate Modern invited over 70 of the world's most innovative independent art spaces, not-for-profit organisations and artists' collectives to take over the Turbine Hall. The festival filled the Turbine Hall with an eclectic mix of cutting-edge arts events, performances, music and film. As part of No Soul for Sale, artist collectives Coloco and Exyzt and Black Dogs worked with the local community for a weekend of workshops, parades, discussions and music.
Rosy in the Mix, 2010
After hosting Rosy the Ballerina in the Turbine Hall bridge – an inflatable, bubble-like pavillion made by Raumlabor Berlin, Tate Modern worked with UP projects and artists Juneau Projects to take it to Mix festival in Burgess Park. For more information click here.
Residents Day, 2009
Tate Modern opened up it's doors at this one day festival for local residents to get their feedback on the new spaces and explore how Tate Modern is changing. Residents Day included site visits to the as yet un-opened Oil Tanks, Futurist portrait making, 'Talkaoke' workshops led by artists The People Speak and special performances by contemporary dance company The Cholmondeleys.
The Thank Goodness Club, 2009
Artist Andrea Mason worked with residents of the neighbouring Sumner Estate on Southwark Street for a series of events called The Thank Goodness Club. Events ranged from tree planting, to tea parties to bringing and taking sales. 
Tate Modern and You, 2009-14
Tate Modern and You is a publication that is regularly produced in partnership with a neighbourhood or section of the local community, in collaboration with an artist. It aims to make stronger links with different communities across Southwark and Lambeth.
Edible Estates, 2007
As part of Tate Modern's exhibition Global Cities, Los Angeles based artist and architect Fritz Haeg created Edible Estates – a gardening project that transformed a disused patch of land outside the Brookwood House estate in Southwark into a vegetable garden, with the help of Bankside Open Spaces Trust and volunteers from the local community.
Community Liaison Group
Tate Modern's Community Liaison Group has been meeting intermittently since 2006, chaired by the local ward councillor. It is made up a group of key community leaders that represent different community organisations and groups across Southwark. They have acted as a group of 'critical friends' and a testing ground for elements of the Tate Modern project.
Some of the key focuses of the group:
To think about the physical and intellectual barriers of attracting visitors to the gallery
How to involve a diverse range of young people in the project development and consultation with a particular focus on young audiences
To continue to build on the current work done by the gallery through its learning programmes and community engagement
To realise the maximum value of the open spaces surrounding the gallery
To listen to and comment on wider public reaction to the project proposals