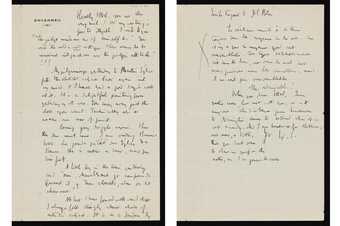 Beyond being a fascinating way to learn more abouts an artists' character, the wealth of detail captured in archival material is culturally significant, speaking to social histories, art understood as practice and so much more, thus forming a rich resource of interest to a huge range of people.
Yet so often the texts can be hard to read. Written by hand (and so sometimes hard to decipher), typed on paper now discoloured, drawn over and around, torn or damaged, it can sometimes be challenging to access the information contained within.
AnnoTate is Tate and Zooniverse's newly launched online transcription tool, and the public is invited to use it to help decipher the writing found in over 17,000 artists' letters, diaries and sketchbooks. 
First look
Artist's archives to be explored include Barbara Hepworth, Walter Sickert, Francis Bacon, Duncan Grant, Ian Breakwell and Donald Rodney.
Visitors on AnnoTate can browse the collections and type up anything from Francis Bacon's letters to his art dealer, to the notes in Donald Rodney's sketchbooks, and in doing so may be amongst the first to encounter the details therein.
Those participating will be contributing to an online digital resource that makes the Archive materials accessible to a wide audience; once the resulting texts have been verified by Tate's Archivists, the official transcripts will be published on Tate's website, alongside the original materials, making them globally available. 
An additional resource
Tate will be the first art gallery to collaborate with the Zooniverse team, led by the University of Oxford, to crowdsource text transcriptions of handwritten documents in this way.
Looking ahead, AnnoTate will be used to transcribe material subject to digitisation in the future, adding an additional resource to Tate's existing digital offering, each of which aim to engage a wider audience and encourage greater user interaction with Tate.
Transcribe your own collection
And finally, since Zooniverse develop all their code under an Apache software license other organisations will be able to use the code for AnnoTate too.
The code is freely available and open for reuse – visible on Github – enabling other materials and collections to be transcribed as an outcome of this project's investment.