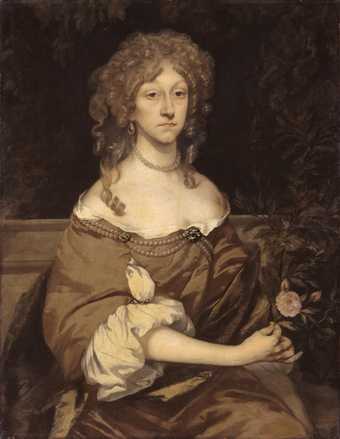 This painting is in oil paint on canvas measuring 914 x 711 mm (figs.1–2). The support is a single piece of plain woven, linen canvas, with a tight network of 17 x 17 threads per square centimetre (fig.3). There are many slubs in the thread. The glue-paste lining was probably applied in the late nineteenth century and the adjustable stretcher looks contemporary with it. The lining has produced a board-like surface, which has obliterated any original texture in the paint.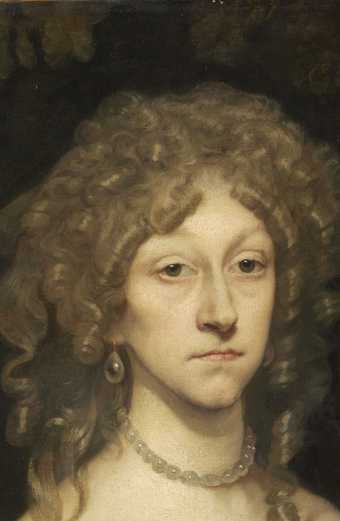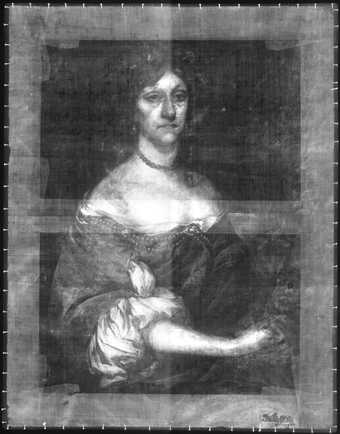 The ground is light, pinkish brown in colour (figs.4–5). In normal viewing it has a granular appearance and at high magnification it is characterised by evenly dispersed, large particles of charcoal black within the pinkish brown matrix, which is composed also of lead white, a brownish black, chalk (calcium carbonate) and various earth colours all bound together in oil.1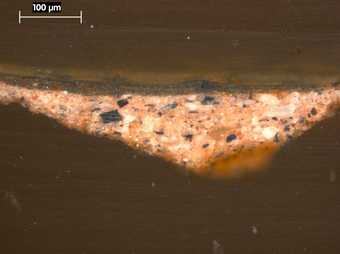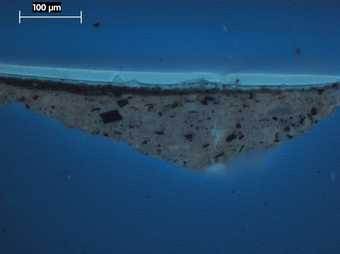 The techniques of painting vary from area to area of the composition. In the background the artist laid on a thin, slightly washy, dark brown paint to deaden the colour of the ground without losing its warm glow. When this brown paint had dried, the artist applied the foliage wet-in-wet on top. The greens were made from mixtures of lead white, smalt, bone black and yellow earth colours. There is evidence that the smalt has discoloured with age, producing a blanched effect in some areas. Flowers and highlights on the foliage were applied thickly with paint mixtures containing the pigments noted above plus red and yellow lakes.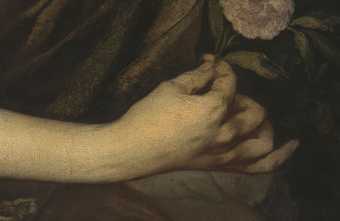 For the gown the artist started with opaque, grey paint to obliterate the warm brown of the ground layer. The grey was mixed from lead white with the same two types of black as the ground, plus a small amount of red lake and a finely ground brownish orange earth colour. The function of this grey layer was to act as the mid-tone of the dress and, with reddish brown highlights and shadows applied on top, perhaps to help produce an overall purplish tone in the final painting. The sash, which has mid-brown underpainting, may originally have been green. Its principal pigment is smalt, which has become darker and less blue with time (fig.6). Bone black, lead white, yellow lake and earth pigments are also present in this paint. The tones of the flesh paint were applied wet-in-wet directly on top of the ground.
When this examination of the painting was undertaken, the painting was covered with thick, yellowed varnish made from a natural resin. It has since been cleaned in 2014.
December 2006