When Tate partnered with UNIQLO to celebrate the opening weekend of the new Tate Modern, it kicked off a long-term partnership which championed creativity and imagination and led to the launch of UNIQLO Tate Lates. Since October 2016 UNIQLO Tate Lates events provided a free monthly night of artist workshops, talks and film screenings, alongside music programmed by NTS Radio.
'UNIQLO's support has enabled Tate Modern to create an event of cultural significance and make a great impact on London's nightlife. UNIQLO Tate Lates have acted as a catalyst for change, allowing us to build relationships with emerging artists, welcome new and younger audiences and remain culturally responsive.'
Frances Morris, Director, Tate Modern
Artist-led programming
Led by artists, these events platform emerging and established voices side by side, exploring and celebrating London's creativity. Alongside artist collaborations they also foster collaborative projects with Tate's Learning, Curatorial, Digital, Catering and Retail teams. This partnership between UNIQLO and Tate enabled UNIQLO Tate Lates to engage young local London audiences and so far reached over 400,000 visitors in the gallery and online.
'As an artist you can often feel isolated and even unseen, but being given an opportunity to work with such a fantastic and supportive team, and join in one of the most fun and enriching events not only allowed me to connect with a wider range of people I wouldn't have otherwise, but was also incredibly affirming to my practice and sense of ability as a working artist.'
Asma Istwani, Artist and Founder of RIOT SOUP Collective
'As the music partner, NTS programmed diverse and discerning musicians and DJs across Tate Modern, providing a unique free dose of happiness for thousands of curious minds every month.'
Sean McAuliffe, CEO, NTS Radio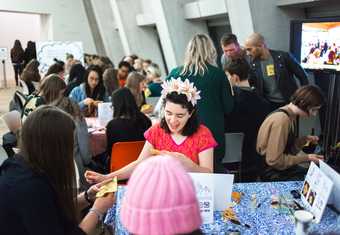 UNIQLO Tate Lates online
In 2020 Tate launched UNIQLO Tate Lates: Night In, a monthly streaming event with artist talks, workshops, film, music and meditation, to continue supporting artists and provide free programming. UNIQLO Tate Lates: Night In embraced digital and international collaboration, from workshops with artists including Lakwena and Wednesday Holmes to meditation with Sanchia Legister, interviews with Kara Walker and David Olusoga and exclusive collaborations between Wolfgang Tillmans and Floating Points.
Future projects supported by UNIQLO
Evolving from the success of UNIQLO Tate Lates and maintaining the shared value of always keeping art at the heart of everything we do, Tate and UNIQLO have committed to expanding on the strengths of this ground-breaking partnership. This long-term commitment will initially see the additional support of Yayoi Kusama: Infinity Mirror Rooms at Tate Modern in 2021, with further announcements to follow. Keep updated with this on our UNIQLO corporate support page.

We look forward to welcoming visitors back to Tate Modern with a new Lates programme in the future.
Get in touch
For further information and images please email hello@tate.org.uk.
UNIQLO Tate Lates was in partnership with: