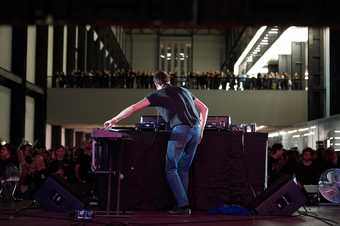 "Brilliant evening #TATELATES. Young and old enjoying live music, talks and exhibitions. Excellent to see #DiverseAudiences @Tate!"
In 2016, Tate partnered with UNIQLO to celebrate the opening weekend of the new Tate Modern. This hugely successful moment for the public to explore the launch was the beginning of a long-term partnership with UNIQLO which has championed creativity and imagination at every stage.
Launched in October 2016, UNIQLO Tate Lates at Tate Modern are a series of special, free, late nights offering an opportunity for visitors to see the latest exhibitions and displays, hear music from up-and-coming DJs programmed by NTS Radio, watch rarely-seen artists' films, and join in with interactive events. Held on the last Friday of every month, the events have become a vibrant new monthly Friday night destination.
Welcoming over 300,000 visitors to date, about 50% of whom are new to Tate, UNIQLO Tate Lates are now a mainstay of London's nightlife. The Lates have championed emerging and established talent and broadcasters including Deep Throat Choir, Mount Kimbie, Smerz, Bishi and Gemma Cairney.
UNIQLO Tate Lates have enabled over 8000 visitors affordable access to Tate Modern exhibitions and have doubled the gallery's BAME and young audiences on those nights. The programme continues to grow, opening the gallery up to more diverse audiences and positioning Tate Modern as a social space as well as an art gallery.
Evolving from the success of the monthly UNIQLO Tate Lates, Tate and UNIQLO have elaborated on our shared values with product collaborations and a Tate programme-led series of in-store events at UNIQLO's flagship London store, always keeping art at the heart of everything we do.