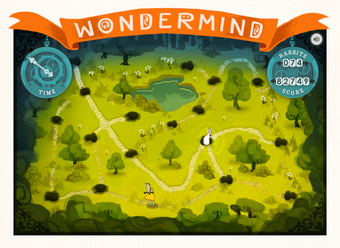 Inspired by works from the Tate collection and the world presented by Lewis Carroll, the Wondermind website was designed to reach audiences not normally engaged with biomedical science by delivering a highly interactive and immersive website for children aged 8-12 and their parents, carers and teachers, which introduced them to key neuroscience concepts in child development and connected them to scientists who are working in the field. 
The project delivered three key online resources to achieve these aims:
Four games, which use art and 'Alice in Wonderland' themes to introduce different areas of scientific focus in a friendly and engaging way. The mini-games were designed to engage audiences, but also to contain neuroscience information and concepts, so that players acquire basic information about the science of brain development through their play.
A set of interactive videos that link with the games and encourage online users to continue their learning and gain a deeper understanding of the neuroscience concepts addressed.  
The website, which holds all the content together and allows users to navigate information to support the scientific themes explored in the games and videos, and to contribute to debate and discussions through the project blog posts.
The site was designed for use at home, in a gallery or at school with a range of difficulty levels represented across four games. In Remember Me, the player must match up the pair of cards who have been painting the white roses red in the Queen of Hearts' garden. On Reflection challenges the player to shine a lamp light on the Cheshire Cat by placing mirrors in a maze. Pathways sets you after the White Rabbit, who is hiding in a warren beneath a rapidly overgrowing forest. Lastly (and most challengingly - for me at least), Talking Tea asks you to serve the right kind of tea to each guest at the Mad Hatter's tea party.
Each game corresponds directly to a neuroscience concept. Audiences could then delve deeper into these concepts by having interactive conversations with practicising scientists. The project blog allowed users to go even deeper, see art and artists inspired by the scientific themes raised in the films and games, leave comments and vote in polls. 
How to get involved
Visit Wondermind to play the games and find out more.
Schools and teachers
There are curriculum links and teaching resources on the website that tie art and science together and will support the use of Wondermind in the classroom or as part of a gallery visit.
Project evaluation
EdComs, an external agency, was commissioned at the outset of the project to evaluate the site to understand how successful it had been in improving neuroscience knowledge and understanding, and changing user awareness and attitudes towards neuroscience. 
EdComs gathered a range of evaluation data through a survey of KS2 Science and Art co-ordinators, observation visits to the Alice in Wonderland Exhibition at Tate Liverpool, and case study observations and interviews with teachers and families.
Download and read the full copy of EdComs final evaluation report.