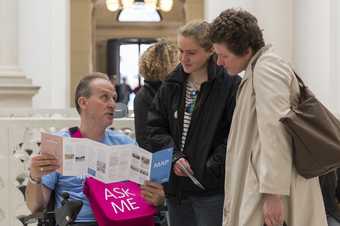 Tate for all
Our aim is to become a truly inclusive organisation with a workforce and audience as diverse as the communities we serve. This is fundamental to Tate's future success and our ability to continue to contribute to culture and society in the UK.
We want our workforce to be more representative of all sections of society at all levels in the organisation. The range of perspectives and experience diversity brings is an asset to our organisation and we want to create an inclusive, welcoming environment for visitors, artists and all those who work at Tate.
We have developed a strategy and action plan to enable us to meet our diversity and inclusion aims.
Careers for all
We strive to ensure that opportunities to work and develop at Tate are open to all. We treat all job applications equally, regardless of age, disability, gender identity or gender expression, race, ethnicity, religion or belief, sex, sexual orientation or any other equality characteristic.
We particularly encourage applications from disabled people and people from black, Asian and minority ethnic backgrounds, as these groups are currently under-represented in the cultural sector.
To open up access to the arts sector, we offer a number of work training programmes, including paid internship placements and apprenticeships. These roles are aimed at those who will benefit most from the training and who might not otherwise have the opportunity to develop careers within the sector.
The Disability Confident Scheme
As part of our Tate for All values we want to ensure that opportunities to work at Tate are open to all, including disabled people, and that disabled employees feel valued and able to be themselves in the workplace.
In recognition of our commitment to disability equality and inclusion, the Tate group (Tate Gallery, Tate Catering and Tate Enterprises) has signed up to the Disability Confident Scheme and is a Level 2 Disability Confident Employer. The Disability Confident scheme aims to help employers make the most of the opportunities provided by employing disabled people.
The Disability Confident symbol will appear on communications about recruitment and learning and development. We hope this will encourage more disabled people to want to work at Tate.
Respect for All
We aim to create a supportive and inclusive environment where everyone can feel comfortable to be themselves and be their best. Dignity and respect at work requires attention and commitment from everyone who works at Tate, both in role-modelling the right ways to behave and preventing inappropriate behaviour.
Our Dignity and Respect policy sets out the standards of behaviours we expect from everyone at Tate.
Wellbeing for all
We are committed to providing our employees with a healthy work-life balance. Our employee engagement surveys tell us that achieving a satisfactory balance between developing a career and enjoying life away from work is a high priority for our people.
We recognise that achieving that sense of balance is a very personal thing; it is about choice and flexibility. We provide a range of support for employees to create an environment where everyone – whatever their commitments outside of work – has the opportunity to flourish, including:
Flexible working
Sabbaticals
Career development
Home-working facilities
Support with managing time and stress
Our Employee Assistance Programme provides information and support on a range of topics, from health and fitness to finance, childcare and counselling. This free, confidential service is available to all our employees online and on the phone 24/7.
The Tate Social Fund helps to provide opportunities for employees to come together and improve wellbeing. The Tate Social Fund managed by our Tate Staff Council, has allocated funds to support activities ranging from yoga to singing, gardening to meditation, quizzes to ping pong. All Tate Social activities are inspired by the five steps to wellbeing: connect, be active, take notice, keep learning and give.
We also offer a range of benefits and discount schemes that can boost wellbeing with offers such as discounted membership of health and fitness clubs.
How to Get Involved
Everyone at Tate plays a part in making Tate for All successful. To support the delivery of our diversity and inclusion strategy we have established a Tate for All governance structure which aims to increase collaboration, accountability and best practice sharing. This includes:
Tate for All Board and Sub-groups
The Tate for All Board which is responsible for scrutinising and monitoring the delivery of the Tate for All strategy. There are two sub-groups of the Board; the Workforce and Culture Group and the Programme, Collection and Audience Group.
Diversity Champions
The Diversity Champions network brings together representatives from all departments across Tate who are interested in becoming advocates for diversity and inclusion in their role and department through conversations, discussion, feedback and providing information relevant to their team. Becoming a Diversity Champion is an opportunity to learn more about what diversity and inclusion means and to shape the future of the organisation.
Staff Diversity Networks
The staff diversity networks bring together everyone at Tate with a shared interest in an equality issue to exchange information, support and influence positive change throughout the organisation. Members of staff diversity networks play an important role in promoting dignity and respect and understanding of diversity and inclusion at Tate.
Tate's current staff diversity networks are:
The Black, Asian and Minority Ethnic (BAME) Network
The disAbility Network
The Parents and Carers' Network
The LGBTQIA+ (Lesbian, Gay, Bisexual, Trans, Queer, Intersex, Asexual and related communities) Network