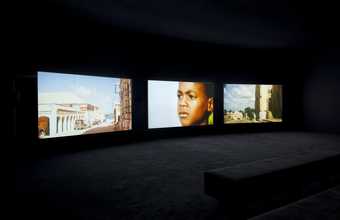 Our role at Tate is to share art in all its complexity and diversity. In recent years we have made progress in better representing artists of colour in our collection and our programmes, but that work must go much further. We know, too, that not everyone has equal access to art and its benefits. We are committed to changing this through our work, and to challenging ourselves to dismantle the structures within our own organisation which perpetuate that inequality.
The founding of our gallery and the building of its collection are inextricably connected to Britain's colonial past, and we know there are uncomfortable and inappropriate images, ideas and histories in the past 500 years of art which need to be acknowledged and explored. We also recognise the intersections of race, gender, sexuality and class in the experience of inequality.
These are not new aims for Tate. We have a stated objective to become a more inclusive institution that reflects the world we live in now. But progress has not been fast or significant enough.
This page details Tate's ongoing commitment to race equality. It will be regularly updated with information about what we are doing to address structural racism, charting our progress towards becoming a more inclusive organisation as part of an open and transparent process. It uses 'Black, Asian and/or minority ethnic (BAME)' as a signifier, however we recognise the discomfort that this terminology produces in reducing individuals of diverse heritage to a single category, and we are working to address this.
August 2023
Developments over the last eight months include:
Tate's annual Workforce Diversity Profile for 2022-23 has been published online, tracking progress against our organisational priorities of achieving real change in who works for Tate, and having a workforce that more closely reflects the communities we serve. The latest figures show that 19% of staff for Tate Gallery identify within Asian, Black, Mixed or Other ethnic groups, increasing from 18% in 2021-2. For Tate Commerce this figure is 13% (13% in 2021-2) and for Tate Eats it is 24% (23% in 2021-2). 
Over the last year, the diversity profile of Tate's audiences as a whole has continued to improve, with 14% of domestic visits to Tate sites coming from audiences who identify as an ethnic minority, compared with 12% in 2021/2022. Lates events in particular are attracting a much more ethnically diverse audience due to their appeal among younger visitors, with 39% of the Tate Modern Lates audience and 44% of the Late at Tate Britain audience identifying as coming from an ethnic minority background. Tate Modern's summer Uniqlo Tate Play programme also remains successful at bringing in a broad range of audiences from different backgrounds, with 33% of participants in the last year identifying within Asian, Black, Mixed or Other ethnic groups.
Tate Britain's rehang opened in May 2023, featuring over 800 works by over 350 artists spanning six centuries. The new displays tell a more inclusive and representative story of British art, foregrounding the central role of many artists of colour and including many works which directly address themes of race and identity.
Tate's 2023 programme continues to prominently feature exhibitions and collection displays that deal directly with race and cultural heritage. In April 2023 Tate Britain opened the UK's first ever survey exhibition of artist and filmmaker Sir Isaac Julien, celebrating his 40-year long commitment to cultural activism. In addition to featuring Julien's earliest works created in the context of the Sankofa Film and Video Collective, a group who played a vital role in the establishment of Black independent cinema in Britain, it showcased powerful and poetic films addressing the Black British experience in the early 1980s and the movement of peoples across different continents, times and spaces. In July 2023, Tate Modern opened its first ever exhibition dedicated to contemporary African photography. Challenging dominant images of the continent and confronting reductive representations of African peoples and cultures, A World in Common features around 100 works that show how photography can imagine alternative visions of Africa's many histories and identities.
Since launching an ambitious initiative in July 2021, Tate has established 35 new apprenticeships. In addition to existing placements across Conservation, Library and Archive, Marketing, Publishing, Digital, Development and Merchandise teams, two unique Assistant Curator apprenticeships were recruited this Spring as part of an innovative new partnership with MIMA and the School of Arts & Creative Industries, Teesside University. Unlike traditional Masters programmes, these paid apprenticeship opportunities are open to candidates who have not already completed a degree, providing vital new routes into the arts sector and helping diversify talent.
Sessions for senior leaders with a focus on supporting and accelerating Tate's ongoing commitment to race equality will be delivered in 2024. These will aim to inspire positive change and foster a more equitable art world that reflects and celebrates the richness of human experiences.
New multimedia resources for staff are now in production, aimed at raising awareness of allyship. The materials are designed in varying formats in order to increase communication, collaboration and conversation across our organisation, and to support individual learning styles.
Further actions and progress can be viewed in the dropdown sections below.