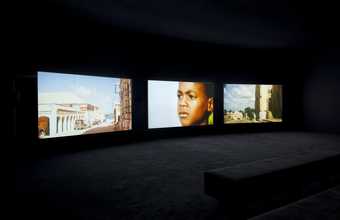 Our role at Tate is to share art in all its complexity and diversity. In recent years we have made progress in better representing artists of colour in our collection and our programmes, but that work must go much further. We know, too, that not everyone has equal access to art and its benefits. We are committed to changing this through our work, and to challenging ourselves to dismantle the structures within our own organisation which perpetuate that inequality.
The founding of our gallery and the building of its collection are inextricably connected to Britain's colonial past, and we know there are uncomfortable and inappropriate images, ideas and histories in the past 500 years of art which need to be acknowledged and explored. We also recognise the intersections of race, gender, sexuality and class in the experience of inequality.
These are not new aims for Tate. We have a stated objective to become a more inclusive institution that reflects the world we live in now. But progress has not been fast or significant enough.
This page details Tate's ongoing commitment to race equality. It will be regularly updated with information about what we are doing to address structural racism, charting our progress towards becoming a more inclusive organisation as part of an open and transparent process. It uses 'Black, Asian and/or minority ethnic (BAME)' as a signifier, however we recognise the discomfort that this terminology produces in reducing individuals of diverse heritage to a single category, and we are working to address this.
May 2022
Since January 2022, Tate Directors have been working on a post-pandemic business strategy, with the diversity of our audience, our people and our programme at its heart. Renewed objectives and actions supporting organisational change will be shared later this year.
In the meantime, developments over the past 6 months include:
Tate's Dignity & Respect Policy, created a number of years ago to foster a positive and inclusive working environment, has been updated and ratified by the Audit Committee. It sets out our clear expectations in relation to acceptable conduct at work and possible actions for where this is breached, both in relation to race and all protected characteristics, in line with employment legislation.
A review of our union-approved anti-racism messaging across all sites has taken place, along with its positioning, ensuring that our zero-tolerance message is clearly communicated to all visitors.
A number of holistic support programmes have been created in order to equip Tate staff in dealing with challenges that arise in day to day working life. These include a roster of mental health first aiders, a wellbeing hub, and 'Confident Manager' training, which ensures that anyone in a managerial position understands how to deal with hostile or inappropriate behaviour.
In order to make the process of acquisitions more transparent and widely communicated across Tate, the Director of Collection, British Art, and the Director of Collection, International Art, have published a guide to Tate's Acquisitions Process, internally. In addition to this, each Tate site has re-published the processes and procedures relating to how programmes are put together.
Following our announcement in 2021 that we would be recruiting 50 apprentices in the next three years, aimed at making careers in the arts more inclusive and accessible for all, we are happy to say that 13 are in place, with another 37 due to start by the end of 2024. In addition to this, at Tate Liverpool, 12 apprentices have embarked on, or will be embarking on, the government's 'Kickstart' apprenticeship scheme, which offers 6-month trainee placements for 16 to 24 year olds on Universal Credit.
Tate Collective, Tate's membership programme for 16-25 year olds, has gone from strength to strength, with close to 132,000 members at the end of the last financial year, and 43,558 exhibition tickets sold. We are pleased that the total percentage of black, Asian, and minority ethnic members has increased from 20% two years ago, to 23%. The picture is even stronger within London, where membership has moved from 24% to 31% since 2019.
Tate has recently acquired a number of works from Asia, Africa, Europe, the Americas, and Oceania. Current highlights include work by Sammy Baloji from the Democratic Republic of the Congo, Leonardo Drew from the USA, and Wael Shawky from Egypt, all of which is being shown at Tate Modern for the first time since joining the collection. Hew Locke's Armada, an immersive large-scale installation made up of a flotilla of model boats and rafts, has been on display at Tate Liverpool, as the centrepiece of a free collection display – Port and Migrations – examining the city's relationship to migration and international exchange. This is the first time Armada has shown at Tate, following its acquisition in 2019.
In May 2021, the Race Equality Taskforce recommended that actions taken as a result of race-related complaints from visitors and staff at Tate sites should be tracked and reported. This system is now in operation with a quarterly report and annual summary shared with the Director of People and the Head of EDI. The reports outline what actions were taken by the implicated departments, and will be reviewed and collated, with the data used to identify further action as needed.
Further actions and progress can be viewed in the dropdown sections below.