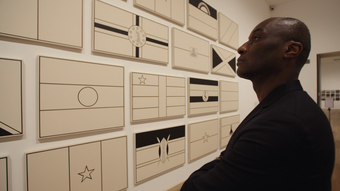 In this mini-series, culture writer and curator Ekow Eshun examines contemporary artists working within the thematic territory of the Black Atlantic. It references a wide range of artists including Kara Walker, Hew Locke, Ingrid Pollard and Lubaina Himid alongside examples from popular culture and recent current events.
In 1993, Paul Gilroy published a ground-breaking book, The Black Atlantic: Modernity & Double Consciousness, which has forever left its mark on historical and cultural studies. The idea that there exists a culture which is African, American, Caribbean, and British, all at once, has generated the rich and boundless space that is Black Atlantic thinking.
In four parts this series explores Tate's collection and the impact of the Atlantic slave trade through the lens of the Black Atlantic. It gives an accessible introduction to the Black Atlantic, how it can help us to understand British identity and how we can acknowledge and learn from history to look towards the future.
Episode 1
The Black Atlantic is an idea, but we can also think about the Black Atlantic as a tool, as a map, as a way of seeing
Episode 2
'Double consciousness' is to experience, as a Black person, looking at the world twice over. Once through your own eyes, twice through the eyes of a white society that looks at you as something strange or alien or other. Something not like them. This is the quintessential experience of the Black person in a white society.
Episode 3
Part three of this series explores monuments and hidden histories through the work of Donald Locke and Hew Locke.
Episode 4
In Black presence, in Black personhood is always a possibility for renewal, there's always the possibility for remaking, there's always the possibility for a new song.
Part four of this series looks at the afterlives of slavery in contemporary artistic practice through the work of Kara Walker, Alberta Whittle and Hew Locke.
Part of the Terra Foundation For American Art Series: New Perspectives