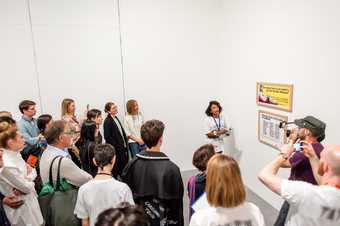 Volunteering
Here at Tate, we really value our volunteers. We have a fantastic team of committed Volunteers who are involved in a range of front of house roles in our galleries as well as behind the scenes.
How does it work?
We are keen to involve people from local communities, so our recruitment for all volunteers is currently through our community partners.
You may be interested in other volunteer opportunities available through Do-it, Team London, or at your local volunteer centre.
Internships
Our internship programme aims to offer structured work-based learning opportunities to support career development and to open up opportunities for working in the arts sector to people from all backgrounds.
We want to offer these opportunities to people who would benefit most from an internship with us both in terms of furthering their personal or professional development and who, in return, would have a new and different perspective to bring to our work.
Previous experience of working in a museum or gallery is not a requirement to undertake an internship here. Our aim is to attract people to join us as interns who might not have thought about working in our sector before or who have not had the opportunity to experience what this might be like. We therefore work with local partners and charities to advertise our internship opportunities. These partners include local job centres, Employ SE1 and Creative Access.
Unfortunately we are not able to accept speculative applications for internships. Similarly we are not currently part of the Erasmus Plus programme and are unable to accept any applications via this route.