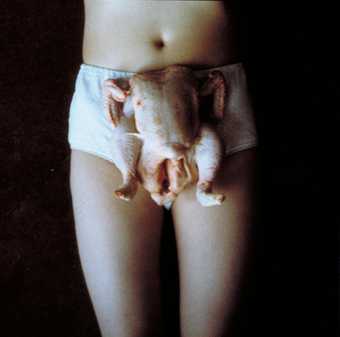 The term abjection literally means 'the state of being cast off'. The abject is a complex psychological, philosophical and linguistic concept developed by Julia Kristeva in her 1980 book Powers of Horror. She was partly influenced by the earlier ideas of the French writer, thinker and dissident surrealist, Georges Bataille. Kristeva herself commented: 'refuse and corpses show me what I permanently thrust aside in order to live'. In practice the abject covers all the bodily functions, or aspects of the body, that are deemed impure or inappropriate for public display or discussion.
The abject has a strong feminist context, in that female bodily functions in particular are 'abjected' by a patriarchal social order. In the 1980s and 1990s many artists became aware of this theory and reflected it in their work. In 1993 the Whitney Museum, New York, staged an exhibition titled Abject Art: Repulsion and Desire in American Art, which gave the term a wider currency in art.
Cindy Sherman is seen as a key contributor to the abject in art, as well as many others including Louise Bourgeois, Helen Chadwick, Paul McCarthy, Gilbert & George, Robert Gober, Carolee Schneemann, Kiki Smith, Sarah Lucas and Jake and Dinos Chapman.