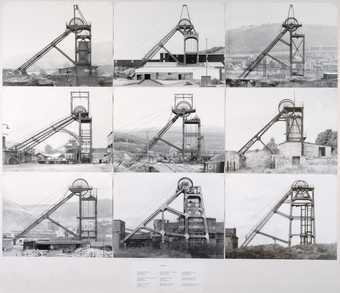 Who are they?
Hilla Becher was a German artist born in 1931 in Siegen, Germany. She was one half of a photography duo with her husband Bernd Becher. For forty years, they photographed disappearing industrial architecture around Europe and North America.
They won the Erasmus Prize in 2002 and Hasselblad Award in 2004 for their work and roles as photography professors at the art academy Kunstakademie Düsseldorf.
How did they become a duo?
They began collaborating together in 1959 after meeting at the Kunstakademie Düsseldorf in 1957. Bernd originally studied painting and then typography, whereas Hilla had trained as a commercial photographer. After two years collaborating together, they married.
What did they photograph?
Industrial structures including water towers, coal bunkers, gas tanks and factories. Their work had a documentary style as their images were always taken in black and white. Their photographs never included people.
They exhibited their work in sets or typologies, grouping of several photographs of the same type of structure. The are well known for presenting their images in grid formations. 
Was it even photography in the first place?
Well technically yes, but their work has also been referred to as sculpture. The Bechers called the subjects of their photographs 'anonymous sculptures', and they produced a successful photobook of the same title in 1970.
In 1990, they received an award at the Venice Biennale not for photography, but sculpture, due to their ability to illustrate the sculptural properties of architecture.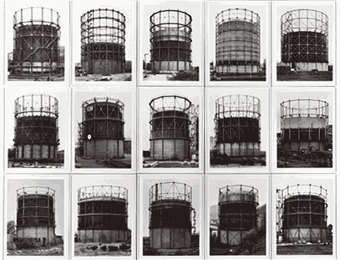 What were the common themes?
Overlooked beauty and the relationship between form and function. Both subjects addressed the effect of industry on economy and the environment.
What were their key works?
Their first photobook Anonymous Sculptures was published in 1970 and is their most well-known body of work. The title is a nod to Marcel Duchamp's readymades and indicates that the Becher's referred to industrial buildings as found objects.
The book consisted of an encyclopaedic inventory of industrial structures including kilns, blast furnaces and gas-holders categorised into sections (the pot, the oven, the chimney, the winch, the pump, and the laboratory.)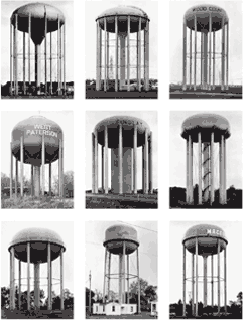 What was their legacy?
What do the critics say?
The Bechers approached photography the way a botanist might approach the cataloguing of flora and fauna
Sean O'Hagan, the Guardian

They are the lines on the face of the world. The photographs are portraits of our history. And when the structures have been demolished and grassed over, as though they were never there, the pictures remain.
Michael Collins, The Long Look 

I was struck as always by the underlying sense of loss and melancholy that emanates from these photographs: you are looking at a lost world, however soul-destroying that world was for those who had to live and work in it.
Sean O'Hagan, the Guardian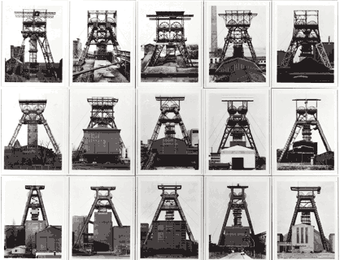 Becher in quotes…
The question 'is this a work of art or not?' is not very interesting for us.
Instant Expert, American Photo

By placing several cooling towers side by side something happened, something like tonal music; you don't see what makes the objects different until you bring them together, so subtle are their differences.
Hilla Becher obituary, the Guardian

We photographed water towers and furnaces because they are honest. They are functional, and they reflect what they do - that is what we liked. A person always is what s/he wants to be, never what s/he is. Even an animals usually plays a role in front of the camera.
Süddeutsche Zeitung Magazin