Wrapped Reichstag, Berlin 1971–95 1971–95
For two weeks in the summer of 1995 Berlin's Reichstag building – historically the seat of the German parliament and a famous site in Germany's history – was covered with 100,000 square metres of billowing silver-grey fabric, tied by over fifteen kilometers of blue ropes.
Prompted by a suggestion by a Berlin-based journalist, the artists Christo and Jeanne-Claude first conceived the project in 1971. Situated during the Cold War in the heart of the divided city of Berlin, the Reichstag was then under the jurisdiction of both East and West Berlin authorities. It was scarcely used, but such was the tension between the two governments, and the political sensitivity of the site, that the project to wrap the building was rejected three times. It was only following the reunification of Germany and before the reinstatement of the Reichstag as the seat of the national parliament that the project was accepted, nearly a quarter of a century after it had been first proposed.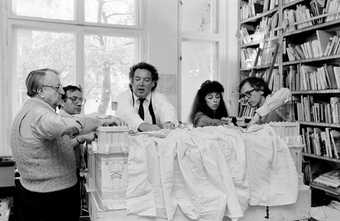 From April to June 1995 workers installed over 200,000 kilograms of steel frames around the building, allowing the 100,000 square metres of fabric with an aluminium surface to hang in folds from the towers, statues and stone decorations. German manufacturers produced everything from the aluminised polypropylene material to the weights and bright blue ropes used to keep it in place, while a work force of over a thousand people assisted Christo and Jeanne-Claude with the design, installation, and monitoring of the completed Wrapped Reichstag. The project cost US $15,000,000.
Wrapped Reichstag proved an immediate success with the public, with millions of visitors flocking to the site. Reflecting the thoughts of many, one journalist wrote: 'The wrapped Reichstag makes lightness and softness … into characteristics of the greatest monumental power … If the architecture of the Reichstag represents a kind of Prussian hardness – Germany as it was – the wrapped version can almost be seen as an ideal symbol of the new Germany.'
Touched by the beauty and popular appeal of the spectacle, the Bonn government asked the artists to extend the project but they refused: the building was unwrapped after just two weeks and the materials were recycled.
For Christo and Jeanne-Claude, the temporary nature of this and other projects was important because it challenged people's belief in the immortality of art. Interviewed at the time, Christo compared the temporary nature of the wrapped Reichstag to the tents used by nomadic tribesmen, quickly erected and equally quickly removed, and to the transience of life itself. 'It is a kind of naiveté and arrogance', he commented, 'to think that this thing stays forever, for eternity. All these projects have this strong dimension of missing, of self-effacement … they will go away, like our childhood, our life. They create a tremendous intensity when they are there for a few days'.