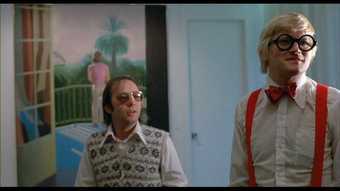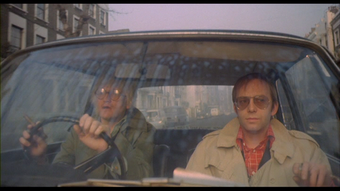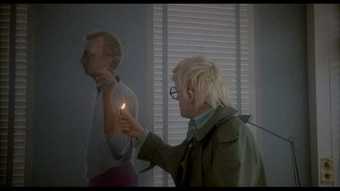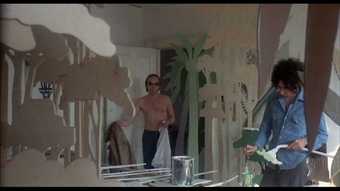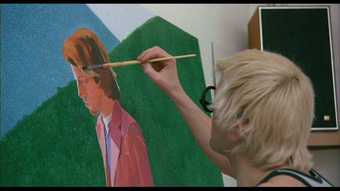 David Hockney's 1967 painting A Bigger Splash is one of the most popular works in the Tate collection. However, many may not know that David Hockney had his own reality show. Well almost. In 1971 the filmmaker Jack Hazan followed the artist for three years documenting Hockney's work, life and social circle that culminated in the 1974 feature-length film also titled A Bigger Splash. Despite Hockney's ambivalence towards the project, the film was a success and a short clip is shown in the opening room of A Bigger Splash: Painting after Performance.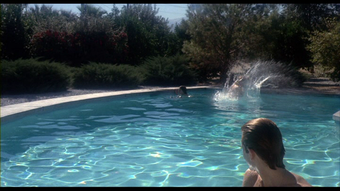 Documentaries of artists can often contribute to the way we think about their work. This is true of Hans Namuth and Paul Falkenburg's film of Jackson Pollock painting, which is in the exhibition, where the artist is shown deep in concentration, dripping paint onto a canvas placed on the floor. While this film depicts a recognisable representation of the private, solitary artist at work, Hazan's film of Hockney is very different.
In a manner very similar to reality-TV shows like The Only Way is Essex or more appropriately Made in Chelsea, A Bigger Splash is a film that initially appears to be a documentary but is in fact a combination of the real and the imagined. Described by designer and co-star Ossie Clark as 'truer than the truth', this 'scripted reality' involved Hockney and his circle playing themselves, at home and play in scenarios that were to some degree instigated by Hazan. The film is both a fascinating document of the artist's world in 1970s London, and a drama where Hockney's paintings are used as a provisional stage set and storyboard for action – the A Bigger Splash painting is made real in a scene involving naked men diving into a pool, and the designer Ossie Clark stands (with his pet cat) in front of his portrait with wife Celia Birtwell, Mr and Mrs Clark and Percy 1970-1 at the Tate Gallery.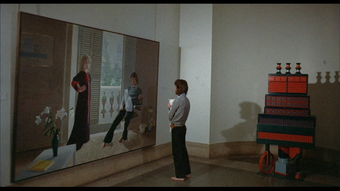 But how does this relate to Hockney's A Bigger Splash and the relationship between painting and performance? For the exhibition, we have been thinking about alternative histories of how painting was utilised beyond the realm of the canvas and what Hazan's film highlights is how Hockney's art and world (including the parties, conversations and socialising) were integral components of his artistic enterprise, something that is often associated with his contemporary Andy Warhol. Hockney was surrounded by people who were interested in painting their own version of reality, whether through the escapist fashion designs of Celia Birtwell and Ossie Clark or the hand-painted wooden palm trees of Mo McDermott. Hockney's paintings of this period re-imagined what painting can do. His depiction of a splash looks like an abstract expressionist gestural mark, when it is in fact the product of two weeks of painted labour; and likewise Hazan's film suggests a reality but is in fact it's own artwork composed from everyday life.
The conflation of the real and the imagined - art and life, the private space of the studio or the dressing room and the public spaces of the gallery or street - is something that this exhibition is drawing attention to and is developed in the work of the contemporary artists present in the show, such as Marc Camille Chaimowicz's imagined bedroom for Jean Cocteau and Lucy McKenzie's trompe l'oeil paintings. Each presents an experience and broader understanding of painting that enable the viewer to become a part of the action or world imagined by the artists.