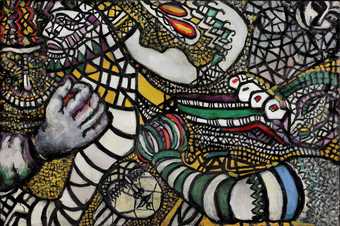 A key figure in Turkish modernism, Fahrelnissa Zeid was the one of the first female students to study fine arts in Turkey. After marrying into the Jordanian royal family, this artist princess went on to travel the world, attending art school in Paris and exhibiting in London. Through her long career Zeid explored many different styles and experimented with a range of techniques and materials. To coincide with her retrospective at Tate modern, we take a look at four of her artworks.
1. Fight Against Abstraction, 1947
This painting represents a turning point in Fahrelnissa Zeid's practice when she was moving away from figurative art towards pure abstraction. Here we can see faces and hands, including a clenched fist, fighting for space in the picture frame, accentuated by her use of black lines that allude to mosaics and stained glass windows.
2. Resolved Problems, 1948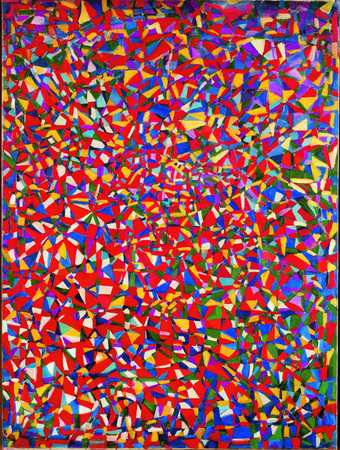 At this point Zeid had fully embraced abstraction, covering the canvas in a dazzling mix of brilliant blue, red, yellow, green, purple and white painted shapes. She was now absorbing the influences of both European abstraction and non-European art. As Zeid described her move toward abstract painting, she said:
I did not 'intend' to become an abstract painter; I was a person working very conventionally with forms and values. But flying by plane transformed me … The world is upside down. A whole city could be held in your hand: the world seen from above.
3.My Hell, 1951

Zeid's monumental painting (more than five metres wide) was produced by tacking the canvas across two walls of her studio. Echoing her deep interest in abstract forms in Islamic art and architecture, she created a vast image of interlocking and undulating black and white shapes, dotted with vibrant red and yellow areas of colour. Describing her painting process, Zeid stated:
Often, I am aware of what I have painted only when the canvas is at last finished.
4. Someone from the Past, 1980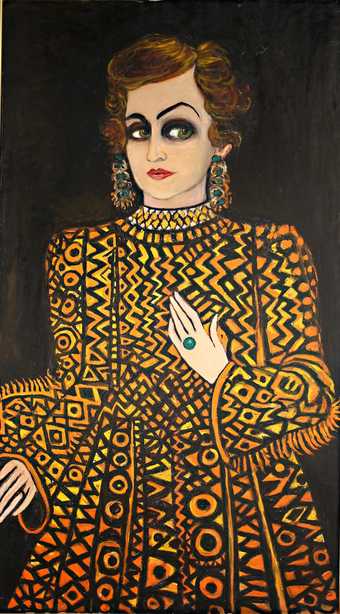 Zeid produced many portraits, mainly of friends and family (but also including a larger-than-life picture of Donald Trump). About Someone from the Past, she wrote:
I am a descendent of four civilisations. In my self-portrait ... the hand is Persian, the dress Byzantine, the face is Cretan and the eyes Oriental, but I was not aware of this as I was painting it.