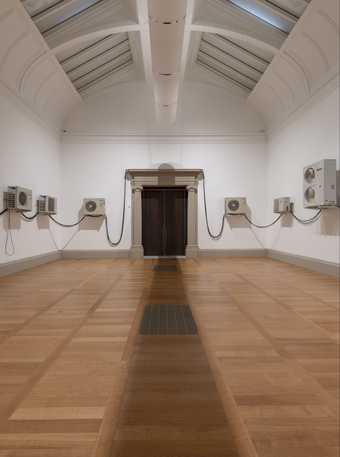 Press play and hear a detailed description of works by contemporary artist Ima-Abasi Okon.
These artworks include a modular ceiling inserted underneath the original. There are also two pairs of hand-crafted glass lights, filled with palm oil and Courvoisier VS cognac. Facing this ceiling are eleven industrial air conditioning units, which have been fixed to the walls. A slowed down audio track fills the room. The installation disturbs the architecture and formal atmosphere of Tate Britain.

The title of this description is 'A Walk Through with an Audio Describer'. It has been written by Elaine Lillian Joseph, who has written audio descriptions for TV, artists' films and live events. Before writing this description, Joseph spoke with the artist, and visited Tate Britain to see the works on display.

She has said of this audio description:

[It] is delivered in the spirit of Ima-Abasi Okon's works. After conversations with the artist, this attempts to centre the experience of the audio describer as curious spectator, tentative critic.
This audio description is part of a series of responses to Ima-Abasi Okon's work developed by writer and curator Taylor Le Melle. Titled Stretching opacity shine, physicality, Palm Oil Cognac Rhythm, these commissions explore Ima-Abasi Okon's work through their materiality.

Le Melle has written about the thought process that resulted in this audio description:
'Raising questions rather than demonstrating facts.' This prompt came from the poet Holly Pester, who helped us find nuance in our quest to give this audio description adequate consideration and resources. These are some of the questions raised when developing this audio description:
Who is qualified to make visual artworks accessible for those who do not see them?
What is the difference between creative writing and writing for closed captions, subtitles or audio description?
When does a distinction between these forms of writing generate an assumption that there is nothing creative about writing for accessibility? Or that there is nothing useful about art writing?
Why would a professional distinction be made between a description written for accessibility and one written as ekphrasis (the Ancient Greek term for an evocative, literary description of an artwork)?

How do audio describers want their work to be recognised?