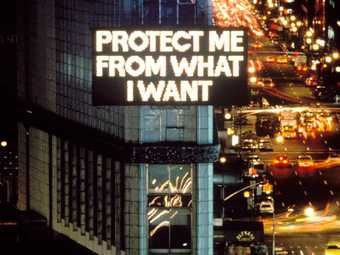 1. Language
American artist Jenny Holzer is best known for her thought-provoking, text-based installations and her creative use of electronic technology. Whether seen on billboards, T-shirts, cups, condoms, or in a gallery, her work asks us to consider the words and messages that surround us in the information age.
I used language because I wanted to offer content that people – not necessarily art people – could understand
Jenny Holzer

Words are central to Holzer's work, whether pasted on a wall, flickering from an electronic sign or carved in granite. She presents messages in ways that reach people outside of museums and galleries, such as on stone benches, signs, posters and T-shirts. These texts reflect the language of breaking news, advertising and other mass media. They can often provoke strong responses. For example:
MONEY CREATES TASTE

ENJOY YOURSELF BECAUSE YOU CAN'T CHANGE ANYTHING ANYWAY

A MAN CAN'T KNOW WHAT IT'S LIKE TO BE A MOTHER
These messages come from her first major text work, Truisms, which explores the idea of gathering and presenting information as art. She created nearly 300 of these statements, based on common sayings and clichés, and expressing many different points of view. These texts first appeared on anonymous posters wheat-pasted throughout lower Manhattan in New York City. Later, they were placed on disposable cups, silver bracelets, condoms and electronic signs. In 1982 she displayed these messages across a giant electronic signboard in New York's Times Square. Holzer hoped they would prompt people to recognise and question the 'usual baloney they are fed' in daily life.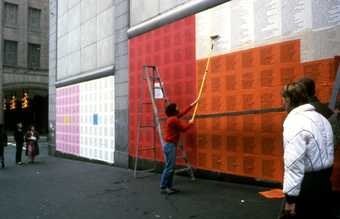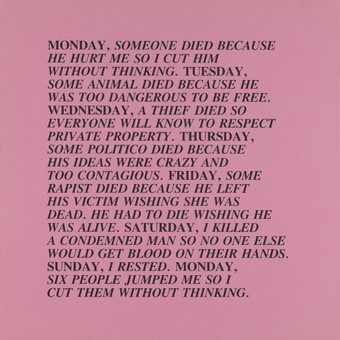 The tone of her next work, the Inflammatory Essays, is more challenging and aggressive. These took the form of 100 word paragraphs printed on different coloured papers. Holzer wrote these texts herself, but we shouldn't see them as directly reflecting her own opinions. Her writing often considers issues from multiple viewpoints but always tackles issues important to many people.
2. Collaboration
I was so relieved to stop, not just for sheer laziness, but because I was able to expand what I could do when I work with other people.
Throughout her career, Holzer has worked with many artists and activists from different backgrounds. She was part of Collaborative Projects (Colab), a group of New York City artists. This collective championed access and inclusion and created work in response to the political issues of the late 1970s and early 1980s. In 1985 she brought her Truisms to life in a different way, working with choreographer Bill T. Jones on the dance project Holzer Duet … Truisms. In this performance, the actor Lawrence Goldhuber recited a text by Holzer while Jones danced with and around him.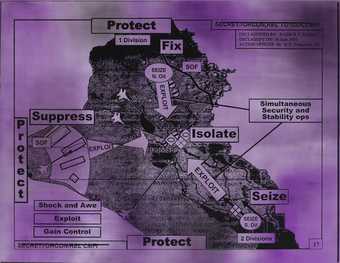 Holzer also uses texts written by others including poetry, prose and first-person accounts of war and its aftermath, such as those collected by charities including Save the Children, Human Rights Watch and The Not Forgotten Association. Declassified government documents offer another starting point for her art. For example, the 2007 screenprint Protect Protect is based on a PowerPoint presentation used to brief the White House in advance of the US and UK invasion of Iraq. By enlarging and adding bright colours to these documents, Holzer highlights the dangerous power of language. We see the words "protect", "suppress" and "isolate" superimposed on an image of a deeply divided Iraq.
3. Technology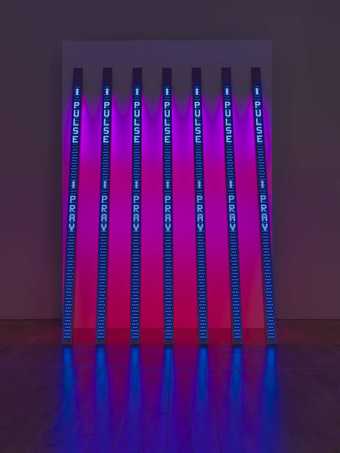 A great feature of the electronic signs is their capacity to move content. I love that because motion is much like the spoken word: you can emphasise phrases; you can roll and pause, the kinetic equivalent to inflection. It's a real plus to have that programming capacity. I write my text by saying the words out loud, or I write and then say words, to test them. Having text move is an extension of that process.
For Holzer, technology is a tool that can convey her ideas to a much wider audience. She often uses light projections and LED signs in her work. The LEDs borrow technology traditionally used in public advertising and warning signs. Through these screens, she can make sure that her art is displayed in the places "where people look".

In Sign on a Truck (1984), Holzer used a vehicle equipped with a sound system and an electronic display to present a mixture of speeches, interviews and humorous images. The project was an attempt to use technology to spark debate and capture a diverse range of voices and opinions on the eve of the United States presidential election.

4. Art in everyday life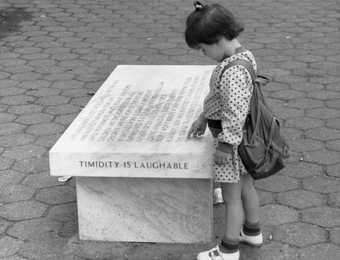 Holzer builds a more intimate relationship with her viewers by creating art that exists outside of traditional art spaces. She wants her work to be something that you just happen to notice while going about your everyday life. She is not interested in work that can immediately be read as art. In this way, her work is similar to graffiti. When art is located on the streets, it cannot be ignored.

An example of this approach is Holzer's stone benches. She began making these in the mid-1980s. Just like the benches you find in city parks and cemeteries, these objects offer a place for reflection or discussion. Everyone is invited to sit on them and chat together. Holzer works with many kinds of stone and carefully selects materials that suit the engraved texts.
5. Politics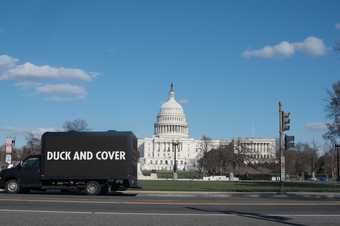 The line between activism and art is blurred in Holzer's work. Almost all of her art is political in tone. It asks questions about our roles in society and the differences between public and private life. Through her choice of statements and the minimal way she presents them, Holzer takes herself out of her artworks. They are no longer personal. They are not her words but a shared voice or many voices.
Her latest project IT IS GUNS is a response to student movements demanding more legislation for gun control in the United States. In March and April 2018 she presented anonymous text on LED screens mounted on lorries. The vehicles drove and parked by landmarks and city centres in Washington D.C., Los Angeles, New York City, Chicago, Atlanta and key locations throughout Florida. The screens showed animated texts with language relating to gun violence, such as SCREAM AGAIN, RED BLOOD or SHIELD HER. These words flashed up in quick succession like free-association poetry. They also suggested the rapid-fire rhythm of semi-automatic weapons.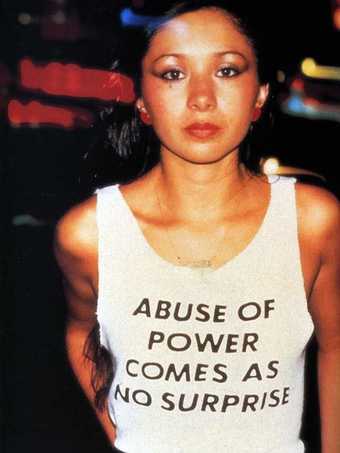 Holzer's work is as relevant now as ever before. The photo above shows Lady Pink, a New York graffiti artist and one of Holzer's collaborators. She is wearing a T-shirt showing one of the artist's Truisms. Taken in 1983, the photo went viral in 2017 when it was shared widely online in response to the #MeToo movement.