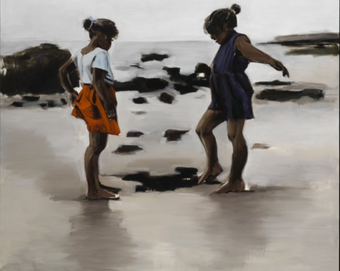 The artist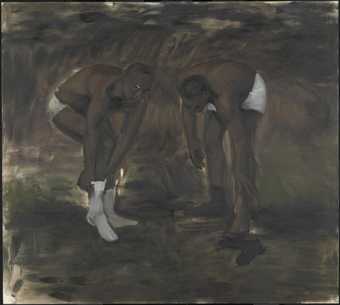 Lynette Yiadom-Boakye was born in London in 1977. She initially learned to paint by working from life. But she changed her approach to painting at an early stage, while studying at Falmouth School of Art, on the Cornish coast. Yiadom-Boakye realised she was less interested in making portraits of people and more in the act of painting itself.
I learned how to paint from looking at painting and I continue to learn from looking at painting. In that sense, history serves as a resource. But the bigger draw for me is the power that painting can wield across time.
Lynette Yiadom-Boakye
Her process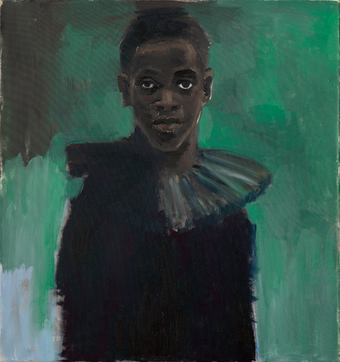 Yiadom-Boakye works with oil paint on canvas or coarse linen. Ideas for her paintings are prompted by a variety of observations – a colour, a composition, a gesture or particular direction of the light. She uses found images, memories, literature and the history of painting as sources for her work. Each painting is an exploration of a different mood, movement and pose, worked out on the surface of the canvas.
I work from scrapbooks, I work from images I collect, I work from life a little bit, I seek out the imagery I need. I take photos. All of that is then composed on the canvas.
Lynette Yiadom-Boakye
At Tate Britain
Figures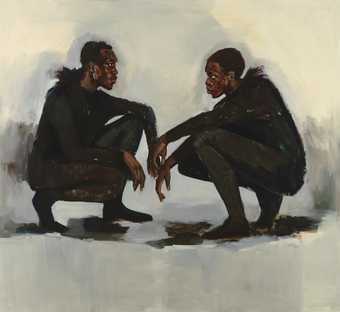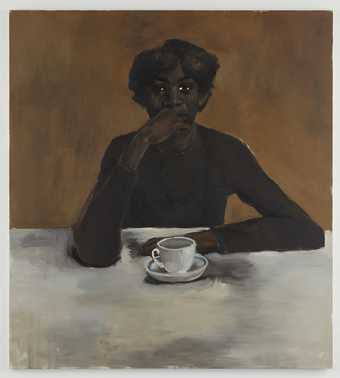 Yiadom-Boakye paints individual figures and groups of people. However, the people she paints are not real. She paints them using her imagination, as well as found images from scrapbooks and magazines.
Yiadom-Boakye's fictitious figures live in private worlds. Though they might smile or glance in our direction, they are concerned with their own business. Both familiar and mysterious, they invite viewers to project their own interpretations, and raise important questions of identity and representation.
Timelessness
The figures in Yiadom-Boakye's paintings have a timeless quality. They are deliberately difficult to place. She rarely includes anything that hints at the style, fashion or culture of a specific period. Her figures are mostly portrayed without shoes, for instance, and few objects tie them to a particular era. This uncertainty is important to the way Yiadom-Boakye works, and requires the viewer to use their curiosity, invention and imagination to interpret the artist's paintings.
My relationship to time is perhaps that of anyone who's never felt particularly fixed anywhere.
Lynette Yiadom-Boakye
Blackness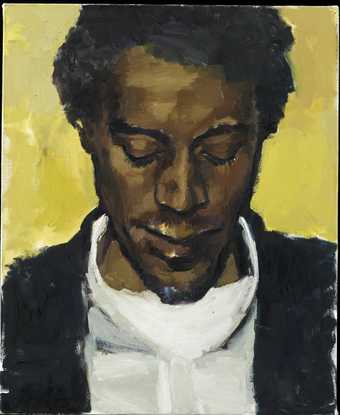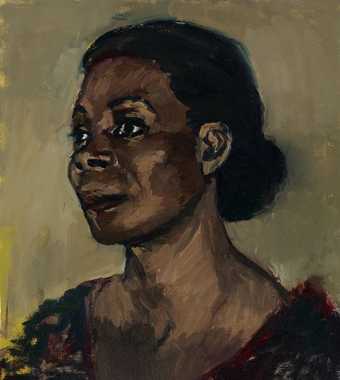 Almost all of the figures in Yiadom-Boakye's paintings are black. Writer and critic Hilton Als has written that Yiadom-Boakye is 'interested in black society, not as it was affected or shaped by the white world, but as it exist[s] unto itself'. As the artist describes;
Blackness has never been other to me. Therefore, I've never felt the need to explain its presence in the work anymore than I've felt the need to explain my presence in the world, however often I'm asked. I've never liked being told who I am, how I should speak, what to think and how to think it. I've never needed telling. I get that from my family. Across generations, we've always known who we are. To be measured relative to something that actually has nothing to do with you or your experience, some self-appointed superior, the ghost of who you ought to be ... none of this has ever made any sense and yet somehow you live with it, live in it. But the idea of infinity, of a life and a world of infinite possibilities, where anything is possible for you, unconstrained by the nightmare fantasies of others, to have the presence of mind to walk as wildly as you will, that's what I think about most, that is the direction I've always wanted to move in. Following my own nose and doing as I damned well please has always seemed to me to be the most radical thing I could do. It isn't so much about placing black people in the canon as it is about saying that we've always been here, we've always existed, self-sufficient, outside of nightmares and imaginations, pre and post "discovery", and in no way defined or limited by who sees us.

Writing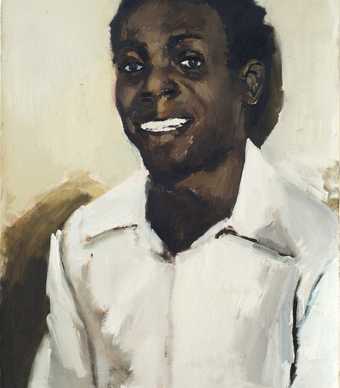 I write about the things I can't paint and paint the things I can't write about.
Lynette Yiadom-Boakye
Writing is central to Lynette Yiadom-Boakye's practice. She is both a painter and a writer of prose and poetry. For her, the two forms of creativity are separate but intertwined.
Similarly, she gives her paintings poetic titles. She describes these as 'an extra brush-mark'. They are integral to each work but are not an explanation or description. They are springboards for our imagination.

Music
Music plays an important part in the artist's practice and she has described how the music she listens to has impacted her paintings.
I always think of my painting influences as really going hand in hand with musical influences. That has to do with what I listened to in my formative years – that's why Prince always comes up. But then, when I started to listen to jazz, it marked my thinking about rhythm. Miles Davis, John Coltrane and Bill Evans. Passages in sound that move unexpectedly. Or the tones in the voice of Nick Drake. At a very particular point during art school I listened to him every day.
Lynette Yiadom-Boakye
Listen to a selection of tracks the artist has shared