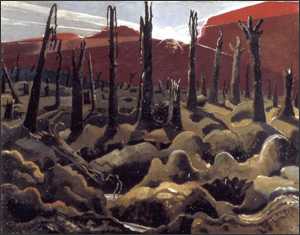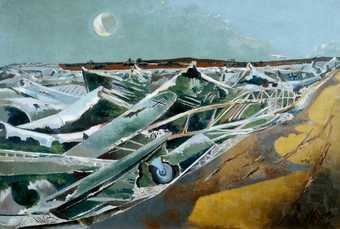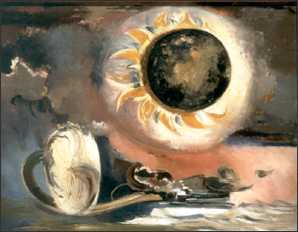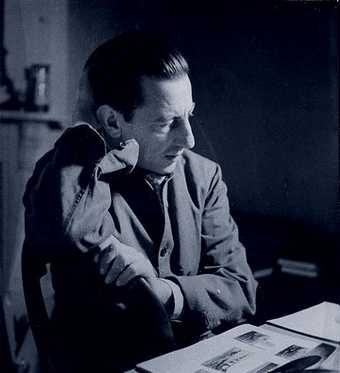 When Paul Nash died in 1946, he was fondly remembered as a great landscape painter, a modern keeper of an old English tradition in which the country's character was depicted in the calm of every branch, brook and rolling hill. When he had his memorial exhibition at the Tate Gallery in 1948, distinguished reviewers of the show variously described him as 'an exceedingly English artist', a 'native genius who understood his England in terms of Blake's Albion', and a man with 'Wordsworthian intuition'.
However, beneath his quiet lyrical pastoralism was a much darker side, reflected in his lifelong preoccupation with the theme of mortality. While his love for landscape gave him his subject, it was the spectre of death that gave him his spirit.
This was a sentiment that appeared throughout his career, from his early experiments with Romanticism. It was radically transformed by his experience on the Western Front, developed through the inter-war years, and took final shape in the Second World War paintings. It was never a singular, explicit theme, but a changing one that underlay each stage in his career.
Nash's personal sense of mortality stemmed from the awareness of the physical fragility of his body. He was often ill as a child, and later wrote of how such illness could 'cripple life'. 'Above all, health is everything,' he wrote. Illness, particularly his battle with asthma and its potentially lethal symptoms, affected him As he wrote in a letter to James Thurber, he had 'an intense hatred of death', but for all that, he managed to turn that fear into painterly energy.
Nash grew up in a troubled household. His mother suffered from depression, and before he was ten she was spending long periods in mental institutions. Already a nervous, imaginative boy, the effect of this environment forced him into dark hiding places, in the 'haunted' house of his grandfather in Hampshire where snakes slithered in the grass and large rats ran amok, as well as in the woods near his parents' home, where he could lose himself under the dark canopy of the trees.
As a teenager, he was quickly attracted to the work of the pre-Raphaelites, especially to its freshfaced ideas of romantic death. In works such as Dante Gabriel Rossetti's Beata Beatrix, in which a long-haired siren is painted at the moment of death, Nash found an innocent outlet for his moody mind.
The spell was broken when his mother died in 1910. He was 20. That year he produced a revealing drawing, Angel and Devil, in which two half-bird-half-human figures battle on a hilltop, accompanied by some of his own poetry: 'A place of gibbet-shapen trees and black abyss, / Where gaunt hills brooded dark and evil, / Girdled by dense woods and rushing streams,/ A dread place only seen in dreams.'
Such youthful scribbling did not prepare him for the reality of the First  World War. Nash served as an infantry officer in the Ypres Salient on the Belgian Front in March 1917, only to be invalided out after several months after he'd sustained injuries falling into a trench.
The landscape that Nash had seen defiantly in bloom in the spring was now a barren, blasted quagmire, littered with the dead.
Although his first exhibition of war pictures later that year was a relatively tame depiction of the conflict, critics such as Roger Fry recognised in Nash's personality a feel for its horrors: 'I think you have a very special talent,' he wrote to Nash, 'for recording a certain poetical aspect of such scene in a way that no other artist could.'
Fry's instincts were right. When Nash returned to the Front as an official war artist to witness the aftermath of the battle of Passchendaele, what he saw radically transformed both his art and his attitude to death. The landscape that Nash had seen defiantly in bloom in the spring was now a barren, blasted quagmire, littered with the dead. Only the splintered stumps of trees remained. Nash expressed the death of the men through the death of nature in his chalk sketches. In a letter to his wife Margaret, he described what he saw as apocalyptic: 'Evil and the incarnate fiend alone can be the master of the ceremonies in this war: no glimmer of God's hand is seen. Sunset and sunrise are blasphemous mockeries to man; only the black rain out of the bruised and swollen clouds or through the bitter black of night is fit atmosphere in such a land.'
Like many who experienced war, the 'rigid fatalism' that he had initially felt was no match for the stark realism of the battlefield. When he showed these pictures several months later, he called the exhibition 'Void', as if it were an exhibition about the end of mankind. For many it would take more than a decade to articulate their experiences of war. Edmund Blunden's Undertones of War did not appear until 1928, while Siegfried Sassoon's Memoirs of an Infantry Officer only emerged in 1930.
Nash was different. While he spent comparatively little time in active service, its effects showed in his work almost immediately. With Margaret, he moved in 1922 to the small Dorset coastal town of Dymchurch. It was a melancholic place that suited his post-war temperament: it was dead and empty, and a long, grey sea wall dotted with concrete blockhouses stretched along the seafront. The flat seashore was studded with groynes, like sharp spikes that protruded from the body of the beach. Here, Nash studied and sketched the sea, and walked along the sea wall at night.
During this time he completed an elegy: Winter Sea, the most mournful painting of his career. Many of the elements he had painted in his war works appeared again, but this time flattened and muted. The sickly brown mud that was once the earth now became the flat sky. The beach was bleached to a pale white, and the sun, once blood-red, had gone. The sea had been carved up, turning the waves into cold, hard, angular sheets.
Later, in 1929, this collectivised depiction of grief was personalised when Nash's father died. As his wife remembered, they were 'more like brothers' than father and son, and the loss deeply affected him. He responded again by depicting death in nature, firstly in February, the title referring to the month in which his father died. It shows a large hand-axe embedded in a tree stump, behind which a gate separates a row of living trees from a clump of dead ones. For Nash, trees still represented human beings - the 'headless' blasted stumps he had painted during the war were now the trees of the English landscape. Felled trees as corpses appeared often in his work, like memories of those who had passed on. They were symbolised in the neat log piles and the rows of tidy trees in Landscape at Iden, as well as in the funeral pyre of wood in his illustration for Sir Thomas Browne's book Urne-Buriall.
He was more comfortable articulateing the cycle of life and death in nature; the fallen machinery was replaced with floating flowers.
They also featured in Monster Field, a painting of a twisted tree, based on his photographs of dead elms with their 'great limbs sprawled backwards over the grass. bleached to a ghastly pallor' like the skeletons of soldiers. Nash channelled his loss, and the increasing sense of his own mortality, through his interest in Surrealism and metaphysical art. Influenced by the works of Giorgio de Chirico and Max Ernst, the suggestion of death became a powerful and emotive subject. Windows, doors and empty rooms materialised in his work, all dark portals to another world. In the painting Harbour and Room, death is symbolised in every plane - in the encroaching sea that invades the floor, in the dark, seductive void of the fireplace, in the featureless sky behind. But this was not a pessimistic work. Where before his paintings had suggested death as finality, here was Nash expressing an ambiguity, in which the doors and windows pointed towards a more hopeful end.
The death of his father coincided with increasing health problems. At the time, asthma was a potentially fatal illness: in 1933 Nash fell seriously ill, and almost died from an attack in 1936. The claustrophobic effects of the disease (he spoke of being 'invaded throughout the day' by it) encouraged him towards imagery that looked for an escape 'into vast lonely spaces in complete freedom of bodily action'.
His subject matter came to him naturally at the start of the Second World War. 'Suddenly the sky was upon us all like a huge hawk hovering, threatening. Everyone was searching the sky expecting some terror to fall.' Nash had been fascinated since the Spanish Civil War by the idea of the rose of death', the name the Spanish gave to the parachute, and when the threat of an aerial invasion of Britain became a real possibility he strained his eyes upwards 'to see that dreadful miracle of the sky blossoming with these floating flowers'.
The war gave Nash a mental backdrop to explore these ideas, and as an official war artist for the second time it soon appeared in the fallen and wrecked planes, littered across the English landscape. In the most dramatic, Totes Meer [Dead Sea], which was pictorially and thematically a neat continuation of Winter Sea, the landscape is covered with the wreckage of German planes which have become 'static and dead'.
However, despite the powerful symbolism of the painting, Nash ultimately felt more comfortable articulating the cyclical nature of death and life through nature, and the fallen machinery was replaced with floating flowers. In an article titled 'Aerial Flowers', written a year before he died, Nash emphasised the meaning of these airborne images. 'The great thing is to exercise constantly in the imagining of aerial images,' he wrote, 'probing tentatively, not unlike those incredibly brave engineers who go ahead of the infantry in search of mines – feeling for death every foot . for it is death I have been writing about all this time, and I make no apology for mentioning it .'
He found his most poetic expression of these aerial images in his final Sunflower series of paintings. While he had painted them first as earthbound objects, they were now rotating discs in the air. In Eclipse of the Sunflower, the petals of the sunflower fuse with the burning sun.
Painted when he knew his illness was overtaking him, it was a symbolic picture of his own end. But Nash had come to terms with it, and Eclipse was a cathartic picture, one that confirmed his faith in the eternal cycle of nature. He knew that the path of his sunflower was towards the sun, the giver of life and the source of light.