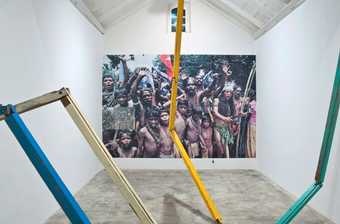 Who is she?
Sheela Gowda is an artist living and working in Bangalore, India. She began painting in her early career but started to make three-dimensional work in the 1990s in reaction to the rapid progress of economic and cultural development in India.
I was unable to find the means within painting to translate certain strong reactions to immediate issues. I do not like to use my work as a vehicle for making strident statements, and needed subtler means.
Sheela Gowda quoted in Trevor Smith (ed.), Sheela Gowda, exhibition catalogue, Bose Pacia Gallery, New York 2007
Now she is known for producing large-scale installation art in which she transforms everyday materials through hand-worked processes. The emphasis on process can be linked to local traditions of craft and the role of labour in making art.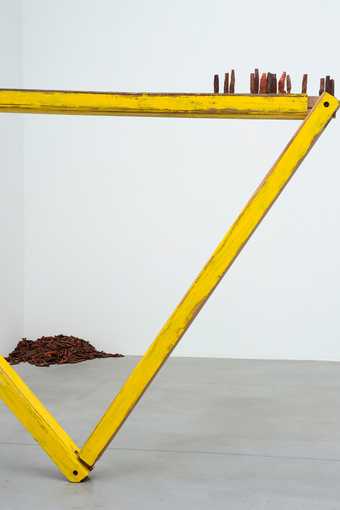 What materials does she use?
Gowda has used and transformed common yet symbolic materials, including human hair, incense, cow dung and red kumkum powder. These materials are associated with everyday rituals in India. She also works with architectural and found materials, wood, metal and stone.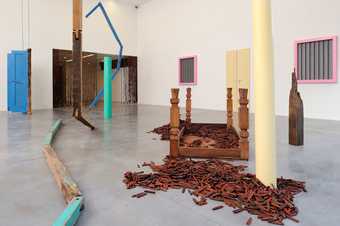 What are her key works?
In 2006, Gowda made Darkroom out of rusted tar drums from her hometown. These were assembled into a two-metre tall hut which the audience could enter. The structure suggested the informal architecture of slums, but once inside was transformed. Gowda pierced the structure with holes to let in light, recreating the effect of a night sky. The humble materials of the piece reflect the economic deprivation in developing countries, yet their transformation into a starry nightscape reminds us of the universality of hope and aspiration. 
And Tell Him of My Pain 1998 consists of a group of red cords dangling and winding their way around an empty room. A closer look shows the cords to be made of many threads, coated and bound together with kumkum or red vermilion powder, used to symbolically mark the foreheads of married Hindu women. Each thread has been passed through a needle which cluster at the end of the coiled ropes. Every needle in And Tell Him of My Pain had the entire length of a three hundred and sixty feet piece of thread pulled through it. The work evokes sinister bodily references, looping vessels and internal organs, but also the forms of labour by women that are increasingly marginalised and undervalued in present-day India.
What is important for me is that these needles … have passed through the whole thread … The process of threading empowers every inch of it, giving it something that you might not at first be able to identify.

Sheela Gowda quoted in Trevor Smith (ed.), 

Sheela Gowda

, exhibition catalogue, Bose Pacia Gallery, New York 2007, p. 139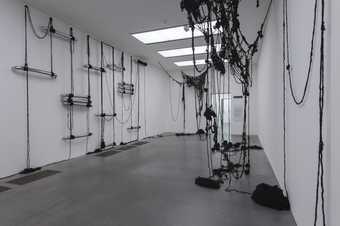 The installation currently on display at Tate Modern, Behold 2009, was first shown at the 53rd Venice Biennale. Here she uses four thousand metres of rope hand-woven from human hair. Hanging entangled within this black, knotted mass are twenty steel car bumpers. Behold is one of Gowda's largest installations to date. The Arsenale, where the piece was installed in Venice, was used by the Venetian navy as a rope factory centuries ago. This industrial heritage is mirrored by the tradition of motorists in Bangalore tying woven hair to car bumpers as a talisman for their safety. The hair comes from temples where pilgrims shed their locks in ritual sacrifice, and the material is then sold on for wigs or for industrial use.
The installation fills a room, the two contrasting materials forming a three dimensional drawing in space, in which thin yet strong strands of hair are used to suspend and support the shiny metal bumpers in an abstract configuration. Coils and spheres of hair on the floor are suggestive of the human form. For Gowda the piece communicates 'a coming together of fear, superstition, belief and a need for comforting action in the framework of modern life' (quoted in Trevor Smith, 'The Specific Labour of Sheela Gowda', Afterall, no.22, Autumn/Winter 2009, accessed 21 April 2013). 
Behold 2009 was purchased by Tate in 2014.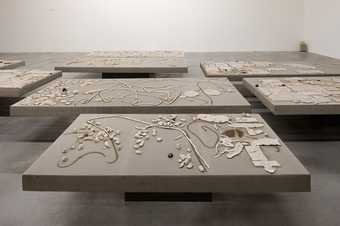 Sheela Gowda in quotes:
Handling a material makes me understand its limitations and its potential … I therefore do not outsource the physical aspect of art-making.
Sheela Gowda quoted in Trevor Smith (ed.), Sheela Gowda, exhibition catalogue, Bose Pacia Gallery, New York 2007, p.148.
If my work gets read as beautiful alone it would be inadequate. It would be a reading of the surface markers alone because the underlying layers are dark. 
Sheela Gowda quoted in Trevor Smith (ed.), Sheela Gowda, exhibition catalogue, Bose Pacia Gallery, New York 2007, p.145