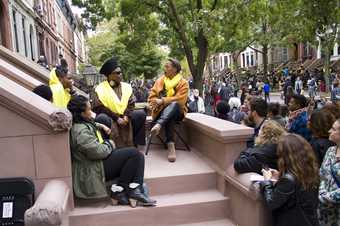 Who is she?
Suzanne Lacy is an American social practice artist, who coined the term new genre public art. Her work spans from visual art, film and performance art to installation, public practice and writing. All her work is linked by its engagement with social themes and urban issues, through conversation within communities of people. She has addressed issues such as rape, violence, feminism, aging and incarceration.
How is she an artist rather than an activist?
Lacy is concerned with bringing both social and aesthetic purpose to her work, making her, in many people's eyes, both an artist and an activist. In her interview with Art In America she outlines the difference between these terms:
I am totally identified as an artist… I make decisions that are not the decisions an activist would make. I'll spend $7,000 to ship 400 chairs in from Tennessee — if I were an activist, I would have a lot of people screaming at me about better ways I could use the $7,000… To me, being politically responsible is my obligation to the people I work with. I also have an obligation not to trivialize serious issues, but I am making art.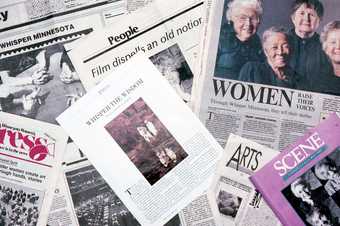 What are her key works?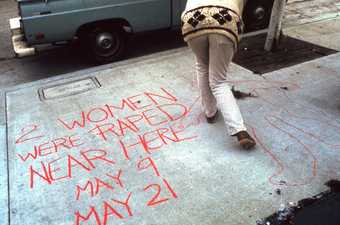 Three Weeks in May 1977, reenacted by Lacy in 2014, was an attempt to highlight the problem of rape encouraging victims to speak out about their experience. Lacy staged a number of events, workshops and self-defence demonstrations, as well as performances by groups of artist including; Melissa Hoffman, Anne Gauldin and Laurel Klick, Phranc and Judith Loischild, Cheri Gaulke and Barbara Smith, Leslie Labowitz, Barbara Cohen and Jill Soderholm. A large scale map which noted the occurrence of rape in Los Angeles was exhibited in the street. As daily rape reports were received, a performer would stamp the word RAPE onto the map in its rough location.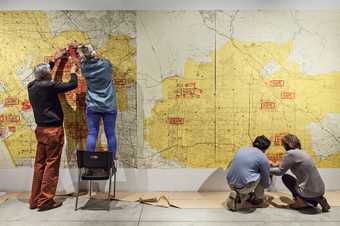 The media played an important role in Three Weeks.  Lacy's approach to sharing information was very forward thinking, following a similar template to social media used today. The artists involved carried out radio interviews, featured in all the major newspapers and even gave political speeches bringing together the messages of communities, the media and government.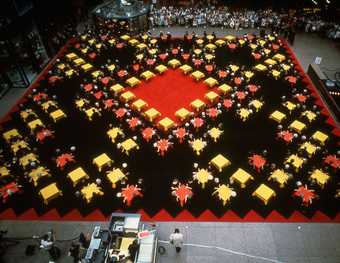 Lacy's piece Crystal Quilt brought together 430 women over 60 years old on Mother's Day in Minneapolis, 1987. They sat at red and yellow tables which from above looked like a Shaker patterned quilt designed by the painter Miriam Schapiro.
The aim of the piece was to explore 'the visibility, or invisibility of women and their leadership capacity' and Lacy emphasised that she didn't want us to 'see these women as potential reservoirs of memory, but as potential activists within the public sphere'.
Watch this video to see the 2012 re-install of the piece in the Tanks at Tate Modern.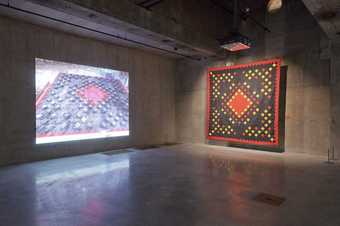 What do the critics say?
She's an artist, and she's using aesthetics to make things happen in life.

Catherine Wood, NY Times
From the whisper of women's voices on a beach to a shout of rage on the steps of City Hall, Suzanne Lacy's art is one of alchemy and exorcism, celebration and condemnation

Margot Mifflin, Art News, 1992
Lacy's work… has consistently been about voice — listening, being heard, and breaking down barriers…  [of] age, color, class, or experience. Cameron Shaw, BOMB Magazine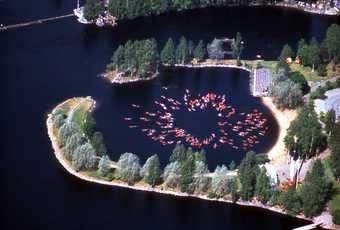 Suzanne Lacy in quotes…
Conversations between people can be exquisitely beautiful, but they can fail miserably as art. It is part of the edge in my work, the possibility of failure through disruption or lack of depth or relationality.

Frieze, 2012
Art has a lot to do with solving problems. Art affirms identity. Art gives voice. Art expresses difference, and it expresses consensus. Art brings up issues.

In Motion Magazine
I have an ethical obligation as a person to make the world more equitable.  

Frieze, 2012