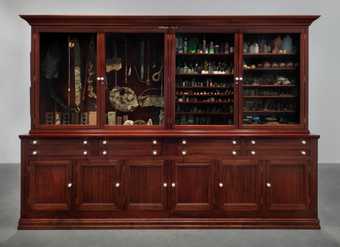 Introduction
As part of Tate Modern's pre-opening programme in 1999, artist Mark Dion and a team of local volunteers combed the shore of the river at Bankside in front of Tate Modern, and at Millbank, opposite Tate Britain. Their aim was to explore London's rich history through its material remains, the artefacts buried within the mud and gravel of its beaches.
A wide variety of objects and fragments were uncovered, ranging from clay pipes, oyster shells and cattle teeth to plastic toys and shoes. The more unusual finds included a bottle containing a letter in Arabic script, pieces of Ballarmine pottery and a fragment of human shinbone. Tents were set up on the lawn outside Tate Britain, where each item was cleaned. A number of professionals including Museum of London staff, Thames River Police and ecologists, helped to identify them.
Once collected and processed Mark Dion created an artwork from the objects and artefacts. The finds are presented as an installation, arranged in a mahogany cabinet alongside photographs of the beachcombers and tidal flow charts.
In this audio excerpt the artist reveals why the prospect of rooting around on the beaches of the Thames was so appealing to him.