Tate Britain
24 September 2019 – 5 January 2020
Supported by Tate Patrons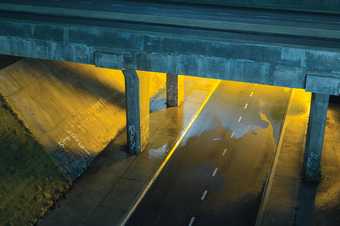 Tate Britain presents O' Magic Power of Bleakness, an ambitious new exhibition by Mark Leckey. Returning to the gallery for the first time since he won the Turner Prize in 2008, Leckey presents an immersive installation combining new and existing works which unfold over time to create a son et lumière (sound and light) experience.
Recognised as one of the UK's most important artists working today, Mark Leckey merges art and subcultures to explore ideas of youth, class, memory and nostalgia. For this major solo exhibition, Leckey fills the entire gallery space at Tate Britain with a life-sized replica of a section of the M53, a motorway flyover close to his childhood home on the Wirral where he used to play with his friends. Here it intersects the gallery as though the M53 runs directly through Tate Britain. Underneath this bridge Leckey premieres a new audio-visual installation Under Under In 2019, inspired by a supernatural encounter he believed he had under the bridge as a child. This experience has persisted in his mind ever since, with the bridge becoming a recurring motif within his work. The artist explains, "Many of my works have their wellspring in things and experiences from my childhood and youth that still haunt me."
At Tate Britain, the bridge acts as a theatrical set activated by video projections and a 19th-century illusionist technique known as Pepper's Ghost. The structure's supporting pillars resemble the standing stones of ancient sites and act as a channel for the artist's memories. A central element of the installation is a new audio play that follows five teenagers under a haunted motorway bridge. It draws upon the idea of the changeling, a child believed to have been stolen by fairies and swapped with a duplicate who is in some way transformed. Having been transported into the fairy realm the main character returns to the real world and is fundamentally altered by his experience.
Alongside this new work, the exhibition also features large-scale projections of two of Leckey's seminal works: Fiorucci Made Me Hardcore 1999 and Dream English Kid, 1964 – 1999 AD 2015. Leckey's breakthrough video Fiorucci is a compilation of footage from dance floors chronicling Britain's underground club scene from the 1970s to the 1990s. In Dream English Kid the artist's personal memories are explored through material found predominantly online, inspired by his discovery of a YouTube video showing a Joy Division gig he attended as a teenager. Shown together for the first time, these three works can be viewed as a career-spanning cycle. In presenting these works to form a single installation underneath the bridge, Leckey combines social history and autobiography, subculture and high art, lived experience and digital memory.
Since coming to prominence in the 1990s, Mark Leckey's investigation of the relationship between popular culture and technology has influenced a new generation of artists. He was awarded the Turner Prize in 2008 and has been the subject of numerous solo exhibitions at institutions including: MoMA PS1, New York, USA (2017); Haus der Kunst, Munich, Germany (2015); WIELS Contemporary Art Centre, Brussels, Belgium (2014); the Hammer Museum, Los Angeles (2013); Nottingham Contemporary, Nottingham, UK (2013); Banff Centre, Banff, Canada (2012); and the Serpentine Gallery, London, UK, (2011). He has participated in the Carnegie International (2013), the 55th Venice Biennale (2013), and the 8th Gwangju Biennial (2010). Leckey lives and works in London.
Mark Leckey: O' Magic Power of Bleakness is curated by Clarrie Wallis, Senior Curator of Contemporary British Art and Elsa Coustou, Curator of Contemporary British Art with Aïcha Mehrez, Assistant Curator of Contemporary British Art at Tate. The exhibition is accompanied by a public programme of events and fully illustrated catalogue with contributions by Ed Atkins, Roy Claire Potter and Catherine Wood. It also coincides with Tate Britain's major exhibition of William Blake (until 2 February 2019), an artist whose radical and visionary work has long been a source of fascination for Leckey.