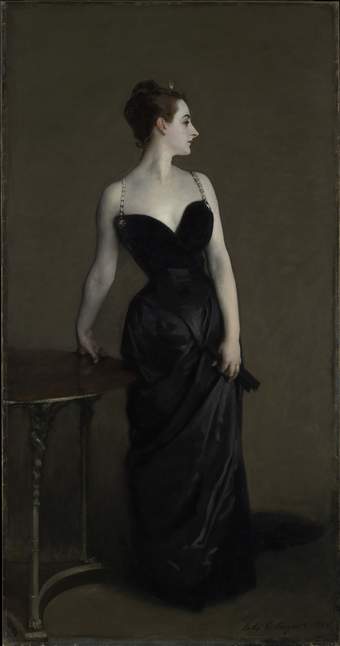 In February 2024, Tate Britain will open a major exhibition dedicated to the great portrait painter John Singer Sargent (1856-1925). It will reveal Sargent's ground-breaking role as a stylist, fashioning the image his sitters presented to the world through sartorial choices. Staged in collaboration with the Museum of Fine Arts in Boston, the exhibition will feature 60 paintings – including rare loans as well as works drawn from Tate and MFA's extensive collections. These will be shown alongside more than a dozen period dresses and accessories, many of which were worn by his sitters. Several of these garments will be reunited for the first time with Sargent's portraits of their wearers, offering a fresh perspective on the most celebrated portraitist of his generation and the society in which he worked.
Sargent was renowned for the ability to bring his subjects to life. Rather than being driven purely by the sensibilities of his wealthy clientele, he used dress and fashion as a powerful tool to establish their individuality while proclaiming his own aesthetic agenda. He worked collaboratively with his sitters, but also took creative liberties, changing and omitting details as he saw fit. He regularly chose their outfits or manipulated their clothing, as in Lady Sassoon 1907, which will be displayed at the start of the exhibition alongside the original black taffeta opera cloak worn in the image, revealing how he pulled, wrapped, and pinned the fabric to add drama to his portrait. In this respect, Sargent was working in a similar way to how an art director at a fashion shoot would today.
The exhibition will tell the stories behind the artist's key patrons, including nobility and influential members of the community. Collectively, Sargent's portraits of the elite offer a compelling representation of fashionable high society at the turn of the century. Highlights will include Lady Helen Vincent, Viscountess d' Abernon 1904 and Mrs. Charles E. Inches (Louise Pomeroy) 1887, which will be juxtaposed with the red velvet evening dress illustrated. The regalia worn by Charles Stewart, sixth Marquess of Londonderry at the Coronation of Edward VII 1904 will be reunited with the painting to show how the artist conveyed both rank and personality through clothing. Sargent was able to take even more creative freedoms with non-commissioned portraits, such as his iconic painting of socialite Virginie Amélie Gautreau, Madame X 1883-4, which caused a stir at the Salon by salaciously showing Mme Gautreau with one diamond strap falling from her shoulder. The exhibition will present both Tate and The Metropolitan Museum of Art's versions of this infamous work. Sargent's artistic process and relationships will be further explored using photographs, drawings, garments, and accounts written by his sitters. Key works such as Mrs Montgomery Sears 1899 will be shown alongside Mrs Sears' own dresses and her photographs of Sargent at work, while Mrs Fiske Warren and her Daughter Rachel 1903 will be displayed with photographs documenting the portrait sittings in process.
Sargent and Fashion will also explore the artist's subversion of social codes and conventions through portraiture. His clothing choices suggest the blurring of characteristics that once defined masculine and feminine appearance, reflecting the shifting ground of traditional gender roles at the end of the 19th century. Sargent's portrait Vernon Lee 1881 exemplifies this approach. Lee was the pseudonym of the British writer Violet Paget, who used the name professionally and personally. Her preference for severe, almost masculine clothing, shows a refusal to conform to conventional notions of femininity. The exhibition will also feature one of Sargent's most dramatic and unconventional male portraits, Dr Pozzi at Home 1881, depicting the aesthete surgeon Samuel-Jean Pozzi in a flamboyant red dressing gown and Turkish slippers.
In addition to his wealthy patrons, Sargent chose to portray professional performers, including dancers, actors, and singers, which allowed him to indulge his taste for visual spectacle. His dramatic image of Ellen Terry as Lady Macbeth 1889 will be shown alongside Terry's dress and cloak, as well as La Carmencita 1890, depicting 21-year-old Spanish dancer Carmen Dauset Moreno, who performed in music halls across the United States, Europe, and South America. For the first time, visitors will be able to view this stunning portrait next to the dancer's sparkling yellow satin costume. Together, this collection of paintings and garments offer a new generation and those already familiar with his work the chance to discover and reconsider Sargent and his enduring influence.