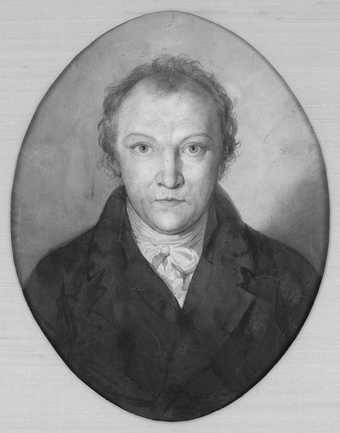 A portrait of William Blake, thought to be his only self-portrait, will be exhibited in the UK for the first time in a major survey of his work at Tate Britain. In the 200 years since its creation, the detailed pencil drawing only been shown once before and never in the artist's own country. It offers a unique insight into the visionary painter, printmaker and poet responsible for some of Britain's best loved artwork and will be displayed alongside a sketch of Blake's wife Catherine from the same period, highlighting her vital contribution to his life and work.
Created when Blake was around 45 years old, the work is thought to present an idealised likeness. Rather than showing Blake as a painter or engraver, signs of his creative intensity are conveyed in his direct hypnotic gaze. This compelling image was produced after 1802, at a turning-point in Blake's life. Having lived in Sussex for three years and been falsely accused of treason, Blake returned to his native city of London and was re-establishing himself as an artist. The portrait shows Blake as an isolated and misunderstood figure.
A crucial presence in Blake's life, Catherine offered both practical assistance and became an unacknowledged hand in the production of his engravings and illuminated books. His visual art and poetry began to develop in original ways only after their marriage in 1782. At the time she was illiterate but learnt to read and write with her husband and became an accomplished printmaker in her own right. Together, these rare examples of Blake's portraiture highlight the ways in which his extraordinary vision was dependent on the domestic stability of his life with Catherine.
Alex Farquharson, Director of Tate Britain, said: 'We are thrilled to have an opportunity to shed new light on William Blake as a visual artist, bringing together a truly remarkable array of rarely seen works, alongside a great many of his most celebrated images. This intriguing portrait has been held in private collections for over 200 years and I am delighted that it will be exhibited in the UK for the first time at Tate Britain.'
These are two of more than 300 paintings, prints and drawings that will be shown in Tate Britain's major autumn exhibition William Blake. Open from 11 September 2019 – 2 February 2020, the show will be the largest survey of work by the artist in a generation and will rediscover Blake as a visual artist for the 21st century. It is supported by Tate Patrons and Tate Members.