7 June 2019, and on the first Friday of every month throughout the year
18.00–21.30
Admission free
For public information call +44(0)20 7887 8888, visit tate.org.uk or follow @Tate #Tate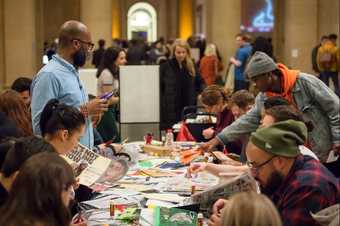 Tate Britain today announced its upcoming programme of free monthly Late at Tate Britain events, which take place on the first Friday of every month. Featuring music, live performances, discussions and workshops, the afterhours events also provide an exciting opportunity to explore the gallery by night. Late at Tate Britain is curated exclusively by Tate Collective Producers, 15-25 year olds who produce a range of free events and workshops for young people. The 2019 series will be inspired by displays, exhibitions and artworks in Tate's collection including major retrospectives of work by Frank Bowling and William Blake.
Late at Tate Britain: Waves on 7 June will celebrate women in the arts, exploring the past, present and future of British art through the lens of women artists. Visitors will be invited to consider an alternative historical view, what it means to be a woman artist in the 21st century, how women artists and institutions can work together, and what the future holds for women in the arts. With an audio visual performance from artist Tamara MacArthur and a discussion from Maggie and Rene Matic. The programme for the evening will also include a workshop from Grrrl Zine, an alternative tour from Dr. Althea Greenan for the Goldsmiths Women's Art Library, and a panel discussion with Assistant Curator Sofia Karamani and Goldsmiths Lecturer Helena Reckitt.
Later in the series, events will explore social activism, drawing on Isaac Julien's black and white film Looking for Langston, a lyrical exploration of black identity and sexuality during the Harlem Renaissance in New York. In October Late at Tate Britain will respond to the Bauhaus and Britain display which celebrates the centenary of the Bauhaus movement, while the November Late will draw on themes related to Turner Prize winning artist Mark Leckey.

Late at Tate Britain 2019:
7 June 2019 at 18.00–21.30
5 July 2019 at 18.00–21.30
2 August 2019 at 18.00–21.30
6 September 2019 at 18.00–21.30
4 October 2019 at 18.00–21.30
1 November 2019 at 18.00–21.30
6 December 2019 at 18.00–21.30
Late at Tate Britain is a free, drop-in event. Spaces are available on a first come, first served basis.

Full programme details can be found on Tate's website.