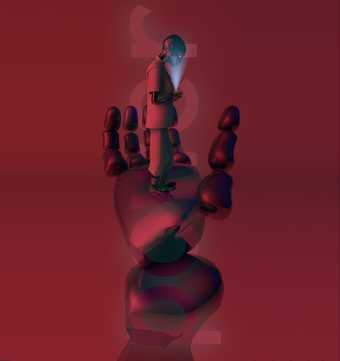 International Collective Hyphen-Labs, a team of women led by Ece Tankal and Carmen Aguilar y Wedge, will launch the fourth year of Tate Exchange this September. They will respond to the 2019-20 theme of 'power' with the programme, Higher Resolution. Tate Exchange is Tate's ambitious experimental platform that brings together the public, artists and over 80 associate partner organisations across each year within and beyond the arts.
Tate Exchange invites the public to test ideas and explore new perspectives, illuminating the value of art to society. Hyphen-Labs, a collective of engineers, architects, designers and artists whose recent works have addressed privacy security and surveillance in our digital age, will question our relationships with digital platforms, the power behind technology, and how art can be used as a tool of intervention. Collaborating with Tate Exchange associates and global guest contributors, including Romy Gad el Rab and Caroline Sinders, they will examine what we share with machines and the algorithms that define our privacy, behaviour and digital rights, inspired by the question 'how did we get here?' Focusing on technology and the next generation of 'higher power', participants will explore the creation of power and the tools to disrupt, resist and redistribute it through an immersive sequence of interventions and conversations, talks and workshops.
Hyphen-Labs, said 'Higher Resolution will explore our emotional, intellectual and physical relationships with power; those omnipresent entities in our physical and digital lives; the all-seeing powers that could hold the answers and solutions. We look forward to working with Tate Exchange audiences in September to interrogate power and technology and how we can work with and against it.'
Dr Cara Courage, Head of Tate Exchange said 'Technology and digital powers are complex arenas to navigate and Hyphen-Labs are the perfect artists to respond creatively to that with our associates and the public. Our lead artist sets our direction for the year and we are thrilled to be working with Ece, Romy, Carmen and Caroline and the Hyphen-Labs team to question and explore our theme of 'power' in what is set to be another compelling Tate Exchange year.'
Since Tate Exchange began in 2016, the platform has produced hundreds of events devised by associate organisations, drawn from the arts, health, education and community sectors, all working closely with the public. In its first year, the inaugural theme was exchange. The second year's emphasis was on production; highlighting the joy and challenges of producing and making art and the impact of creative learning, and the third year's theme was movement, covering transition, migration, mobility and the political.
The programme Higher Resolution runs at Tate Exchange from Tuesday 17 – Sunday 29 September
For press information contact pressoffice@tate.org.uk or call +44(0)020 7887 8730.