Tate Liverpool Appoint 6a Architects For Major Reimagining of Gallery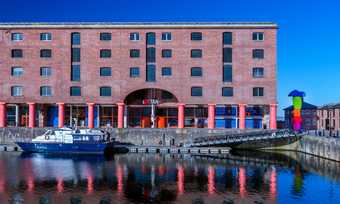 Tate Liverpool today announced 6a architects will lead the design for a major reimagining of the landmark gallery on Royal Albert Dock Liverpool. The firm won the tender to transform the renowned gallery's spaces following an open competition which garnered applications from around the world.

The practice was chosen from a strong shortlist of Asif Khan architects, Feilden Clegg Bradley Studios, Witherford Watson Mann architects and 6a architects.

Helen Legg, Director, Tate Liverpool, said: "I'm excited to embark on a journey with 6a to reimagine what Tate Liverpool can be and how it can best serve the needs of art, artists and our visitors into the future. 6a have an outstanding track record of reworking historic buildings, often in partnership with cultural organisations and I'm confident in their ability to deliver something very special with us in the coming years."

6a architects was founded by Tom Emerson and Stephanie Macdonald in 2001. The practice has gained an international reputation for its cultural and educational projects, especially in sensitive historic environments. Drawing on social histories, construction traditions, contemporary art and landscape, projects emerge firmly rooted in their place.

Stephanie Macdonald, Founding Director at 6a architects, said: "We are thrilled to be appointed to design the next chapter of Tate Liverpool. Liverpool has a unique spirit; Jesse Hartley's original Royal Albert Dock was one of the most innovative buildings of the industrial revolution. Sir James Stirling's transformation in the 1980's was a pioneer in the adaptive re-use of industrial heritage for public cultural use. Together they offer an incredible starting point from which to develop a new sustainable, social and accessible museum for the future. We are honoured to have the opportunity to work with Tate Liverpool to imagine how this great museum can once again offer artists and audiences a renewed experience of art reflecting the warmth and energy that this extraordinary city is known for."

Tate Liverpool is housed in an iconic 1846 warehouse that was redesigned by Sir James Stirling and Michael Wilford in the late 1980s as the cornerstone of the reinvention of the Royal Albert Dock. It helped establish Tate as a pioneer for arts-led regeneration in the UK.

Following a grant from the Government's Levelling Up Fund, Tate will work with 6a to reimagine the gallery spaces to meet the scale and ambition of today's most exciting artists. They will also develop social spaces that better connect with the city and its communities, creating an environment that is flexible and inviting and able to host people, art and ideas in equal measure.