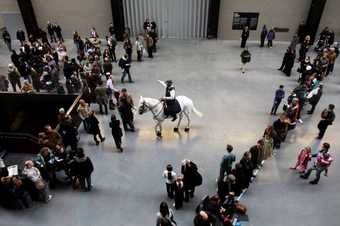 Tatlin's Whisper #5 2008 (Tate T12989) is an artwork that strives not to be one. It was staged at Tate Modern on 26–7 January 2008, in a succession of twenty-minute bursts as part of a weekend of performances titled UBS Openings: Live – The Living Currency. The performance consisted of the interaction between two policemen mounted on horseback and museum visitors who happened to be on the Turbine Hall bridge. The officers were members of London's Metropolitan Police and they exercised crowd control techniques on the accidental assembly, corralling people, splitting them into smaller groups and so on (fig.1). According to the artist Tania Bruguera the piece depended on not being immediately recognisable as art.
Such a goal might seem as quixotic as it is commonplace. The artistic search for a radical spark residing in non-art has a long history, particularly so in relation to performance, which has, in turn, sought to prompt the viewer's reflection on the world beyond. In Bruguera's case, however, the struggle with the aesthetic frame stemmed from more than a desire to overcome a presumed spectatorial passivity and encourage active participation. Rather, Tatlin's Whisper #5 made canny use of the cognitive dissonance produced when symbols of 'real world' power materialise in the 'art world' – in the museum and in the flesh.
Over the weekend of The Living Currency, the Turbine Hall was flooded with several works of performance art by an array of artists. To give just a couple of examples, Santiago Sierra paid nine homeless women the price of a night in a hostel to stand facing a wall as onlookers snapped photos, and Sanja Iveković had a seated actor cry on command in front of a video camera and read stories pulled from the news, watched on a monitor by the audience. The museum was a sea of bodies – some performing, more watching, many doing both. The bridge – a mezzanine level that affords views up and down the expanse of the ground floor from above – would have seemed an ideal place for both respite and an objective overview. However, as two mounted police officers arrived on the scene, the situation changed and escape was impossible. Herded this way and that ('Ma'am, Sir, the horse is going to walk through. Please move to the left. Thank you.'), visitors became both subject and object of the performance.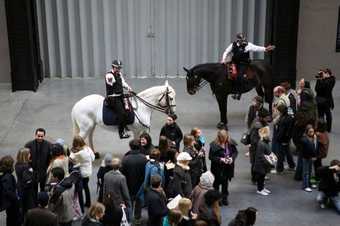 Bruguera lists the material components of Tatlin's Whisper #5 as 'mounted police, crowd control techniques, audience' but describes its media as 'Decontextualisation of an action, Unannounced Performance, Behavior Art'.1 'Unannounced Performance' meant no warning or explicit framing ­– no sign, no wall label, no announcement – to introduce the work as art. This provided the conditions for 'Behaviour Art' and 'Decontextualisation of an Action' to take hold. As the performance is unannounced, the sight of the approaching police and the possibility of being subjected to their control induced earnest confusion if not fear on the part of the viewer. Decontextualisation, then, meant exploiting the frame of the museum to jar the visitors' assumptions about what takes place there, with the performance providing a showcase for their responses – their behaviour. What does one do when, minding one's own business and looking at art in a museum, a policeman on horseback shows up and says it is not alright to stand here and that you have to go there instead (fig.2)?
By bringing police into the museum, Bruguera was not offering the audience a temporary autonomous zone – or what we might call a 'safe space' – in which to experiment with rebellion, by throwing off the demands of authority figures without consequence. In fact the opposite was true, as the performance imagined how easily a safe space can become threatening when power announces itself. For Bruguera, provoking a live and felt experience of a power is more effective than art's more usual 'allegorical' approach to politics.2 Rather than representing politics and using the space of art to imagine other worlds, she wants to make art that enacts politics as it exists in people's everyday lives.

Tatlin's Whisper #5 is the fifth work in a series, all of which have the same main title. The title refers to the Russian artist Vladimir Tatlin (1885–1953), whose utopian artwork was committed to disseminating political messages in wider society in order to create a new world. This was epitomised in his unrealised Monument to the Third International 1920, a large-scale sculpture that would have also served as a radio broadcast tower. Bruguera's title suggests that what would have been amplified in the early twentieth century has now been reduced to a soft whisper, although one that carries down through the ages. The whisper warns that art is not immune to the machinations of power. Bruguera believes that art's attempts to fashion new political realities are intrinsically bound to its specific cultural moment and social relations. In fact, just as Tatlin believed an artwork could express the true nature of its material components (wood, metal and so on), Bruguera believes art to have the same capacity in relation to the power structures it engages.3 In Tatlin's Whisper #5 the artist used the mounted police to transform the museum and the experience of looking at art into a confrontation with subjection and control. A second version of Tatlin's Whisper #6 2014 – first performed in 2009 – set out to erect a temporary podium in Havana, Cuba's Revolution Square and offer anyone (who would dare take it) exactly one minute to say whatever they wanted. The government prevented the performance from taking place, detaining Bruguera in advance, as well as a number of other individuals they believed might seize the opportunity for speech. Despite it not taking place, however, Bruguera insisted the performance was a success precisely insofar as it showed 'the moment we are at politically'.4
Bruguera would hope, therefore, that the experience of being policed at Tate – however viewers reacted and whatever they thought about it – would inform their next encounter with the police, whether as representation or reality. The question that remains is whether this experience depended on being on the bridge on that particular day? Or whether Tatlin's Whisper #5 might be collected or preserved?
In many ways, Bruguera's 'Arte de Conducta' depends on the moment of its enactment and on the immediate and unexpected response of the viewer. This emphasis on experience in the present tense conforms certain orthodoxies associated with performance art, and appears critical of its collection, re-presentation or re-performance. Explicitly siting the work in how it elicits viewers' relations to political life, however, shifts the import of its use of ephemeral duration from an ontological register to an historical one. That is, because the point of being present for the work is not to transcend ordinary social reality but to feel one's place in it more fully – to become immersed in it – Tatlin's Whisper #5 exists to index the social situation that surrounds it. This subtle point not only offers a different way to conceive what performance does but also makes a resolutely ephemeral work available for re-staging, free from concerns about capturing or recapitulating the original work. Moreover this adjustment in critical and historical vision is far from a theoretical exercise. It is both supported and illustrated by the way Tatlin's Whisper #5 entered Tate's collection.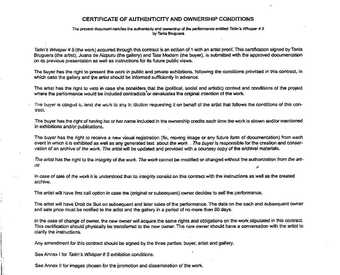 The contract that Bruguera developed to govern the transfer of the work serves to elucidate her own ideas about art and politics, as well as a new approach to thinking about the role of time in live performance. In selling Tatlin's Whisper #5 to Tate, Bruguera agreed to supply the museum with a certificate of authenticity (fig.3) and official documentation photographs (two of which appear above, figs.1–2), along with the right to restage it. Such an acquisition formula has a long history stemming from the early days of conceptual art and the artist contract written by Seth Siegelaub.5 However, Bruguera also secured a commitment from the museum to follow a schedule of conditions stipulating when and how the piece could be shown in future iterations. This schedule outlines materials that must be used (trained mounted police in uniform, no fewer than six crowd control techniques and so on) and describes what the institution cannot do. For example, as with its initial appearance, the performance must never be announced in advance. Also, the work can never appear solely as documentation. It can be represented by documentary material in the course of a lecture about the work or its concerns, but a clear distinction must be maintained between the work and its resulting images.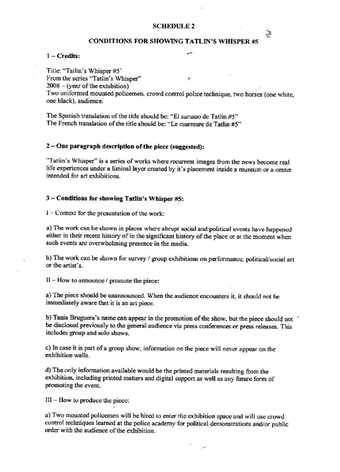 Furthermore the work itself can only be restaged if certain conditions outside the museum are also met. According to the contract (fig.4), 'The work can be shown in places where abrupt social and political events have happened in their recent history of [sic] in the significant history of the place or at the moment when such events are [an] overwhelming presence in the media'.6 In order for the durational time of the performance to be effective, the presence of mounted police must first of all be familiar to museum-goers. Mounted police have been a fixture in crowd control in the UK since the early twentieth century, used to marshal protest marches and football supporters. In the case of Tatlin's Whisper #6 the burgeoning rapprochement of Cuba and the USA, announced in late December 2014, served as incentive to restage the work. The important point for the present case study is that, as Bruguera thinks of performance art as comprising an audience's reaction to a situation she constructs, the larger historical context in which the performance takes place needs also to be considered as a material substrate. Time exists here not only as the durational quality of individualised experience but also as an element in the broader social environment crucial to the work's proper functioning. Bruguera has coined a term for this aspect of her art, too: 'Political-timing specific'.7
It is easy to see how Bruguera's work, and its investment in creating disorienting interventions in social reality, benefits from an awareness of its specific political timing. But this expanded sense of time – as not only something a performance can create or portray but also into which it is thrown – offers a provocation to performance scholars, critics, curators and artists more generally. What would it demand to always consider performance's relation to time? What if analysis endeavoured to site performance in historical time rather than define performance solely in terms of its own ephemerality? What if the ephemerality of a work could be understood as a material component or strategic choice designed to strike a specific relation to its larger moment? This would by no means guarantee that all performance would become politically radical or relevant but it could lead to evolving, first, more sensitive strategies for appreciating what performance does when it is happening and, secondly, specific, tailored approaches to re-staging a work after its initial version. When time itself is accorded specificity, the practice and study of performance can move in new directions that sustain a work's historicity, as well as its relevance in the present and future.