The Brooks Travelling Fellowship was my time away from work, from my life; time away to gather some perspective and generate a framework to articulate the complex and nuanced lexicon of art that engages communities and pushes boundaries between activism, politics and more.
 
 Khirkee Extension
Khirkee Extension in Delhi, India is located opposite the Saket District Centre and covers over 54 acres of land that includes six shopping malls and a number of office complexes. In the past decade this large piece of government land transformed from open shrubbery, where children from the poorer neighbourhoods of Hauzrani and Khirkee played cricket, to the projected aspiration of a rising India replete with glass clad buildings.

Khirkee Extension is on the list of 895 unauthorised neighbourhoods yet to be regularised by the Government of Delhi. The legal status of the neighbourhood is an issue that gets drummed up at every election, in that a few colonies get legalised and the rest are kept as 'bait' for the next election. The politicians promise the neighbourhoods' better infrastructural facilities and legal status every election. Meanwhile, builders continue to pay off the local authorities to raise poorly constructed builder-flats that are occasionally demolished on orders from The Supreme Court.

Today, Khirkee Extension is home to communities from India and abroad: Afghans, Biharis, Cameroonians, Kashmiris, Malayalis, Manipuris, Nepalis, Nigerians, Somalis, Ugandans and many more. Some reasons for the popularity of this neighbourhood are its proximity to shopping malls and hospitals, in addition to relatively low rents for a South Delhi colony.
When I began working in the neighbourhood of Khirkee in 2004, with KHOJ International Artists' Association, we resisted the western framework of contemporary art theory around what was then called 'community art' working instead with basic tools of instinct. For instance, in 2006, when construction of a proposed series of malls began on The Press Enclave Road, the main thoroughfare running opposite Khirkee Extension, the labour force poured in by the thousands with their families, squatting in makeshift tents on the footpath. These labour families, typically, leave their eldest sibling to look after a trail of younger ones. Often toys are invented in the process to keep some children busy while others are fed. The toys are  clever inventions using bottle caps, empty match boxes, plastic bags, tyres and tin. Inspired by these creations and using the opportunity of the ongoing school summer break we set up a terracotta toy making workshop in the local park . With the permission and support of the local residents, the Resident Welfare Association and the Park Management Committee, we ran a three month workshop complete with an open foundry, evoking overwhelming participation from the community, over 800 unique toys were created.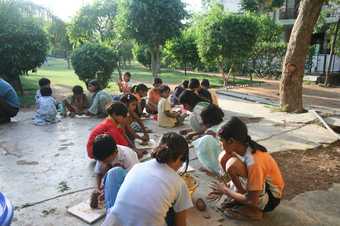 'Relational Aesthetics' 1 sounded alien to me in 2005, as families in India were still struggling with a joint family structure that seemingly imposed hegemonies along with creating discontent amongst the younger members of the family. The relationships in these families, however complex, still existed and people were not alienated or alone in the way arts practices in the west were addressing.2  
As an upper caste Hindu I am aware of the privileges I enjoy in the Indian society at large. My parents, who are liberal Hindus encouraged my sister and I to pursue our choice of education, marriage and life, choices that should be well within our rights (as women) but are often impossibly hard to attain. So, while the upper caste residents in Khirkee would talk to me as an equal in hierarchy, the unspoken opinion held steadfast that I was still a young girl who should not interfere with the complex structures of the society. The first three years I spent in Khirkee were a constant struggle to be taken seriously, to be accepted and mostly to be trusted by the local residents. Meanwhile, on the flip side, I was beginning to see the problems that the contemporary art /socially engaged art paradigm presents in the form of tokenistic attitudes and a seeming 'god complex' in pre-empting the needs of a people. Often time bound engagements do not allow the artist the luxury of time to understand the context of the community or geography they are working with. Residencies, grants and workshops all encourage the artist to isolate an issue and try and either represent it or somehow fix it. Sometimes the structure of engagement, or the artist, ends up oversimplifying the situation. For instance, there are very few women on the streets in a neighbourhood, hence the artist creates a space for women to interact. However, years of patriarchy and unbalanced gender ratio are not considered while assuming that women are held captive at home and not allowed to access public places. 
Khirkee, is a microcosm of our society, our country, our struggle and our accomplishments. As India leapt from a pre to post industrial discourse in a breath, Khirkee too has struggled with land politics in the face of development and expansion. Sometimes as a passive observer, sometimes as an active participant, I have already been part of a ten-year story in Khirkee. Not content with pure observation and pontificating, I started to participate in its everyday affairs. It was and still is insufficient for me to be a mere observer. In these ten years I have also developed a deep respect for art in the everyday sphere. The creative expression that the people of Khirkee inherently have and began to dovetail into these energies; be it a local hip hop crew or local musicians, even barbers who rightfully see themselves as masters of a creative skillset.  
Reflecting on my ten year engagement with one community I cannot ignore the context we were working within. India is growing at an exponential rate which has triggered complex physical and subjective repercussions, akin to a bewildered child with muscle pains, hair sprouting overnight and a sexuality that was previously unknown. In these complex times I began to enjoy the 'rabbit-hole' narrative; often attempting to enrich the dominant discourse surrounding this growth with many more layers and stories. The art interventions initiated were able to break the linear narrative with rumours, half-truths and fiction. The art projects generated parallel documentation of the changes in the built environment as well as in the aspirations of the neighbourhood. While homogeneity is easier for the state, media, policy makers and designers (those happy with and in search of one unanimous opinion) I believe it is the artist who can complicate the consensus by introducing insight and empathy; two intangible yet integral aspects of a socially engaged practice.
Money matters
In the past few years, since I started working independently in Khirkee no foundation, trust or institution has paid me or my collaborators for the time and energy we have put into the work we do. We do manage to get support to hire audio equipment or print photographs, but no one is remunerated for the time they contribute. This act of volunteering is not for a single cause or in the spirit of social work per se. Often it is quite the contrary and rooted in the self, yet not entirely disassociated with the collective. For instance young artists may find merit in participating in a zero budget street art festival.3  as it gives their artwork visibility. Or the local market association may want to support us as they have lost business to the large malls across the street. The motivation for the market association was to get more footfall and generate revenue, it was not necessarily to rally the cause of the festival or support the voice against racism. 
Working without institutional support has in fact proved to be a blessing so far, as it frees us (the partners I work with in Khirkee, as well the artists who collaborate on various projects) from product-oriented practices. It enables us to be lighter on our feet and able to react more quickly to issues on the ground. During the fellowship I began to see how working against deadlines for a socially engaged project snatches away the spirit of the engagement itself. Especially in the UK where, while relatively well supported by the government, socially engaged art has become, in my view, a tool for using creative practices to keep society busy through tokenistic play, while the issues at the heart of social discontentment are often buried beneath timeline driven engagements.
Most institutionally supported work in India is required to be not-for-profit, meaning the artist is not paid and must find other options to pay their bills.  But a dilemma arises, for even if the artist forgoes their fee, with no direct funding the collaborators must suffer the same fate. While we have often put together projects because we felt compelled by a situation to do so, we do not see this as an ideal situation. We would like to remunerate our partners and participants, but we do not feel compelled to make funding our priority. What drives our work is the energy and support the partners bring to the table and the satisfaction of knowing that in some small way we contributed to the infrastructural, social, ecological condition of the neighbourhood and stay connected with the every day life of the residents and children.
During my fellowship in London I was I was very inspired by the monetarist formats adopted by Platform Art4 to fuel the work that they are invested in. The team at Platform use a system they call 'Socially Just Waging System' whereby the team is remunerated based on the needs of the team member. For instance members with dependants are paid higher than those who may have inherited capital. 
Alternative models of funding
My anxiety with the current funding structures is not unique. The phrase 'They just don't get it' is repeated over and over again at forums, discussions and seminars. One never hears about a grassroots level funding organisations. We allow the educated elite to decide what projects and issues need money and attention, we even give grant money to those artists who can afford to forego their fee. For those working on the ground or at the least close to it, funding application processes can often turn into a futile exercise. 
In India it seems that the bulk of funds available for research based and community art projects are supported by international agencies. The few Indian pools of grant money are frugal. Hence it is not surprising that the projects often reflect a global concern as opposed to more rooted local concerns. For instance food security, which is a more global discussion as opposed to farmer suicides that is an unfortunate reality of India. 
In the vacuum created by an inept political left in India the voices of political dissent are few and far between. Without an effective political opposition the artist, who should be the backup choir for the songs of revolution, is now responsible for leading the vocals, and finding the amplifiers and the electricity to power the sound system. 
The two projects we were able to realise without the prior formality of funding applications were Extension Khirkee, a street art festival and Antarrashtriya Khirkee, a block party hosted against the backdrop of rising racist aggression against the African community in Khirkee. Neither would have been possible without continued conversations in the neighbourhood. A good example is the property dealer (Aditya Kaushik aka Gambhir) who gave us his office to use as the festival hub for Extension Khirkee who is now a dear friend. We often have relied on each other for help on both personal and practical matters. 
With this project Extension Khirkee we also wanted to challenge, through example, the need and space for funding. Fellow artists and friends came on board without a fee and most of the murals we made as part of this project were painted black and white, which was a cheaper option. We received a donation of 20 pounds from a friend and used the money to print t-shirts for the festival. Friends of friends joined in and a band offered to play free gigs at the local barber's shop. It was a fantastic event that got the community together and created unlikely partnerships; we all got caught up in the moment we did not feel the lack of funding.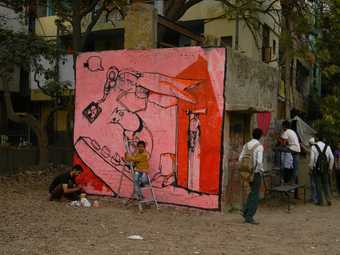 Antarrashtriya Khirkee was made possible with the generous support of senior artist Vivan Sunderam and on his insistence, the Raza Foundation. A small part was also supported by the Foundation for International Commercial Aspiration, a public arts institution. Addition funding was received from a private donor who chose to remain anonymous. The bulk of the work was shouldered by volunteers. This festival worked well logistically as we were able to hire basic equipment and furniture and even give a small fee to all the participating artists and musicians. The reason why so many people contributed their money, time and energy was the context of this festival. Everyone who participated was moved by the racist treatment of the African people in Khirkee.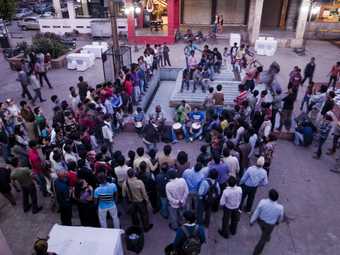 I knew that my initial arrogance regarding 'Zero Budget' projects was just a trope to address the dynamic between socially engaged art and funding structures. Perhaps, establishing a commercial enterprise would be an option to continue working without succumbing to cyclic funding loops? For example, we are currently working towards a range of Hip Hop clothes and accessories, an idea that the youth of Khirkee proposed as their hip clothes and hairstyles are all the rage amongst the other children of the neighbourhood. This commercial set up could provide basic livelihood to the Khirkee Hip Hop crew as well as continue to be our nerve centre (financial security) for Khirkee specific projects in the future. B-boy Sandeep planted the seed for this idea before I left for the Brooks Fellowship. During the fellowship I met Yemi Awosile from the Open School East as well as Rohini Malik Okon, Participation Producer (Visual Arts) at the Southbank Centre to discuss possible support and collaboration for this project. As of today this idea has grown as more people joined in. Hemant Sreekumar, an ex-colleague from KHOJ, a well-respected sound artist and currently employed by an advertising agency; is helping us make a video for a start up campaign. Ravana Tenheads, ex-Khirkee resident and musician is helping the Khirkee musicians with beats and to record new rap songs for the video. 
Borderlines
When art addresses the political or social it cannot possibly absolve itself of the social or the political. In projects like Aapki Sadak (Your Street), where I was invited to work with a team of architects and urban designers, I truly began to see the strengths of cross-disciplinary engagements. This urban design project invited the community to participate in creating an alternative mobility strategy that would enable the local residents to get to the nearest public transport system by walking, cycling or other non-motorised alternatives. It took the Aapki Sadak team (including architects, urban planners, landscape designers, artists, local Resident Welfare Associations) almost two years to complete the groundwork before the local municipal council agreed to adopt the project. Perhaps one of the first civic initiatives to be adopted by the Delhi government. During the project I conducted surveys, curated public art interventions, distributed pamphlets and waited endlessly in government office corridors amongst many other duties and responsibilities.
My role
When my friends from Cameroon were harassed by the police for bribes I wrote letters to the chief of Delhi police to request an intervention. When one of the young girls from Ivory Coast was brutally beaten up by local hooligans, I invited the press to cover her story and when a politician conducted a midnight raid on the houses of Ugandan women, I wrote an article in the Yahoo news that was shared widely and generated support for the African nationals living in Khirkee. I realise that I am neither a survey inspector, nor a postman, nor a journalist, nor an activist fighting for gender or race. But, at the same time I found myself shuffling between these roles and responsibilities. What was my role? When did my work become too developmental or too activist? One of my prominent concerns during the fellowship was to answer some of these questions. Primarily, what was the line between art and activism (for me)? While creative practitioners are able to see the merits of a multidisciplinary collaboration they tend to get nervous at the idea of a multiple portfolio. Fortunately, these are not my concerns alone as during the Future Citizen Forum chaired by Professor Engin Isin at Tate.5 these very questions were addressed. As discussed in these sessions, perhaps the strength of the practice of art is in transgressing boundaries and creating newer and more evolved forms of overlapping, complementing, collaborative practices. 
Two phrases my father often uses are: 'One thing at a time' and 'Jack of all trades and master of none'. These phrases have been challenged in this day and age. When 20 windows are open on Google Chrome it is hard to cope with the one-thing-at-a-time routine. Similarly when social constructs are confronted with newer more nuanced and complex issues, it is insufficient to be a 'Jack of one trade', one has to reinvent the roles and trade all together. 
Motivation
When I began working in the neighbourhood of Khirkee in Delhi in the year 2004, I did not know that this would be such a long term and ongoing relationship. I also did not expect that a conventional understanding of art, activism, development and social work would complicate any reading of the work I did here. That the idea of a neighbourhood is a complex one; layered with issues of gender, economy, identity, class, caste, religion, nationality, skin-colour, personal and collective memory. I did not know if we were getting anywhere, or if it was important to get anywhere. I just enjoyed the process and kept at it. In conversation with Emily Pringle, Head of Learning Practice and Research at Tate, I was able to address the key motivation behind the work I did, one that I had recognised but shied away from using. This motivation is Love: for the process, for the energy, for creating newer lexicons for addressing everyday challenges of an urban village.  

'For, without this love of the process itself, what do we have?'6 Socially engaged art or community art is not about ticking all the right boxes. There are none and if there were, it would be impossible to count how many. So, let's get muddled up in these complications, let's get confused, let's get dirty, lets mix it up and let it multiply and evolve. These are real life stories and life rarely fits within our little white boxes.
Aastha Chauhan was a recipient of the Brook Travelling Fellowship in Oct- Dec 2014
This paper is the result of a Learning Research Secondment hosted by Emily Pringle Head of Learning Practice and Research at Tate 2015
Tate Research Centre Working Papers, Autumn 2015 © Aastha Chauhan