A long-time fan of Swiss-born Jean Tinguely (1925–1991), Michael Landy has been influenced by his fellow artist's destructive tendencies, in particular as manifested in Tinguely's 1960 Museum of Modern Art performance Homage to New York – a fascination echoed in his own piece Break Down 2001, for which Landy catalogued and destroyed all his possessions. This autumn he co-curates an exhibition of Tinguely's work for Tate Liverpool.
Landy on Tinguely
My interest in Jean Tinguely's work dates back to 1982, when I visited his retrospective exhibition at Tate. At the time I was student studying textiles at Loughborough. I remember riding sculptures, making abstract drawings, throwing balls about and watching machines pogo. The abstract felt-tipped drawing which I took away with me from the show, I subsequently went on to destroy in my piece Break Down 2001. Another object which was destroyed by me was Rosalind Krauss's book Passages in Modern Sculpture. There was one particular black-and-white image of Tinguely's Homage to New York, a self-constructing, self-destroying sculpture, which committed suicide on 17 March 1960 in New York's Museum of Modern Art sculpture garden.
I went on to make 160 drawings and a documentary relating to Homage to New York, as well as tracking down members of the audience who witnessed the event and who also took bits of the sculpture away with them as souvenirs. The 23 x 27 ft white painted sculpture, made from junk collected from New Jersey dumps, took Tinguely three weeks to create and 27 minutes to destroy itself (with a little help from the New York fire brigade). Tinguely said at the time he wanted all the remains to end up in the garbage cans of the museum, and this has strong similarities to Break Down, where all 5.75 tonnes of my pulverised possessions went to landfill. 
I like to think of the idea that Jean Tinguely's Homage to New York comes back to life as an apparition once a year in the grounds of the Museum of Modern Art and performs for 27 minutes in front of Rodin's Balzac and Maillol's The River – and disappears once again. 
Tinguely on Tinguely
Homage to New York was for me an attempt to liberate myself from the material. The best way to do this was to make it self-destroying, like Chinese fireworks, so that during the event – and naturally it became an event, a spectacle – all these materials, even the smoke, became part of the sculpture. I say Chinese fireworks because that is the best example in classic art. Chinese fireworks were an art, a very powerful art. In placing myself on that terrain I obtained great liberty with respect to the materials I used, for all these objects were put to use without binding me, you understand. I could maintain complete freedom – I never  had to worry about making them more solid, for example. They could live as long as they liked. At the same time they were placed in a situation that enabled them to be fragile; they had the good fortune to be endowed with the qualities normally found only in an improvisation, while simultaneously being part of a great sculptural machine.
What was important for me was that afterwards there would be nothing, except what remained in the minds of a few people, continuing to exist in the form of an idea. This was for me very liberating. The next day they just swept up and every trace was gone. It was just a marvellous thing people talked about…
Why liberating? Because I was totally engaged and yet totally free. It gave me every opportunity and left me in a semi-trance, in a sort of dream. It was for me the ideal solution, it was the form of art that seemed the most perfect I have yet found. It could be stripped of all significance, or it could be interpreted in a symbolic sense; it could be taken as a spectacle, a rape, a joke, a gadget – anything you wish. It wasn't the idea of a machine committing suicide that fascinated me primarily; it was the freedom that belonged to its ephemeral aspect – ephemeral like life, you understand. It was the opposite of the cathedrals, the opposite of the skyscrapers around us, the opposite of the museum idea, the opposite of the petrification in a fixed work of art.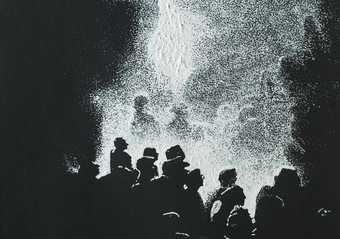 It would be beautiful if every work of art were like that. Perhaps they are, all the same – even the Venus de Milo, with the marvellous aspect it has today, has been modified, time-worn; it is truly more than the artist made it, and we have certainly accepted this modification.