Sook-Kyung Lee
Your artistic practice ranges from photography, sculpture and architectural interventions to films, sound pieces, single and multi-channel video works and installations. It seems natural that you have created a series of filmed interviews with a number of creators – not only artists and filmmakers, but also architects, musicians and actors – who share experimental spirits and innovative approaches in their chosen fields. Can you tell us what you wanted to explore in The Source, which you are premiering at Tate Liverpool?
Doug Aitken
The Source is about the roots of creativity. It is about a sense of polymedia, a sense of crossover. I mean that there is really no separation between music, art, film and architecture – all these different formats. I think there's also the idea that the starting point for creativity is words, experience and dialogue. And with this, we want to take things back to that source.
Sook-Kyung Lee
What did you seek to communicate through these different conversations with the various creative individuals you chose to include in the work? Was there a sensibility shared by them that you found particularly intriguing?
Doug Aitken
I think we live in a world that's very much compiled of fragments – fragments of information and experiences. We process these, and each of us synthesises together to create our own view of things. Many of the people in this project are working in very diverse media, and it's that common thread that I'm interested in: finding ways to hear someone talk about the roots of their musical composition or song, and to see how that connects with someone who might be making minimalist art, or film. I think these things are completely linked. There's a kind of commonality in the creative process, and also in the sharing of ideas.
Sook-Kyung Lee
You have chosen to display the interviews in a pavilion on Albert Dock, next to Tate Liverpool. It's a great architectural project in itself, realised in collaboration with renowned British architect David Adjaye. What was behind your decision to move out from the existing gallery space?
Doug Aitken
The project is very much about empowerment, not necessarily of the creator, but of the viewer. And with this, it's about bringing the discussion back to a place that's very clear, that's very pure, that's very open… it's very much about a new form of access. It's about using the moving image as a tool to kind of open up a discussion: to share, to create something that's completely democratised.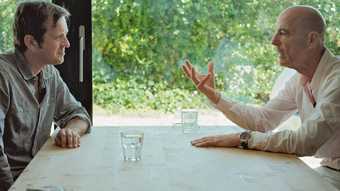 Sook-Kyung Lee
As the title suggests, your installation explores the source and process of creativity at its heart. How would you define this project in relation to other works?
Doug Aitken
Unlike seeing a finished piece of art that might be on the wall, or something sculptural, it looks to peel back the layers and see the source of why a work was made, and what led that person to find a necessity to create it.
Sook-Kyung Lee
The Source has been co-produced by Tate Liverpool and Sky Arts Ignition, as part of the Liverpool Biennial 2012. It is also the first project selected in the Sky Arts Ignition Series. What excited you, in terms of the possibilities, of working with these diverse partners?
Doug Aitken
Well, I want the installation to serve as a destination. I want it to be a place that one can go to and walk into these ideas, as it's kind of a field of ideas. You can step out into a dialogue over here with a woman who's creating something unique in cinema, and you can move over there to someone who might be making something sculptural or artistic in a different way. I see it as the act of sharing and exchanging, and creating something that's going back to the roots of all of this. So much potential; I am incredibly excited.