When Anni Albers would reminisce about Paul Klee, the man who had been her 'god' at the Bauhaus, she would, almost invariably, say to me that 'he was like St Christopher carrying the weight of the world on his shoulders'.
She made the declaration with utter certainty, and with a smile that betrayed her complete transport. Anni attended Klee's classes and considered him to be unparalleled in his genius, in his ability to combine the abstract and geometric with the natural and organic. ('Take a line for a walk,' she would quote him as advising her and the other textile students at his lectures on form.) She saw him on a daily basis, but felt that he was detached and ultimately unknowable. Even when she and Josef Albers were married and lived next door to Paul and Lily Klee and their son Felix in the sparkling new Masters' Houses at the Dessau Bauhaus, she found him unapproachable; there was no such thing as an ordinary hello. When Klee invited the Alberses and others in for a social visit, he did not talk so much as entertain, usually by playing Mozart or Bach on the violin while Lily accompanied him on the piano.
Anni's association of the artist she admired more than anyone else at the Bauhaus with St Christopher had come to her at the time, for she knew that this saint, gigantic in size (said to be eighteen feet tall) and immensely powerful physically, had hoisted a child, standing alone outside his hut, on to his shoulders to carry him across a turbulent river, with the small boy becoming so heavy that the giant said to him that the whole world could not feel as heavy as that little body, only to have the child reply: 'I am Christ your king.' Klee was neither especially large nor strong, but he was someone to whom mysterious, other-world experiences occurred, and he was possessed of exceptional force. Besides, rivers and precipitous jumps in scale and mystical events were all part of the personal universe he richly inhabited.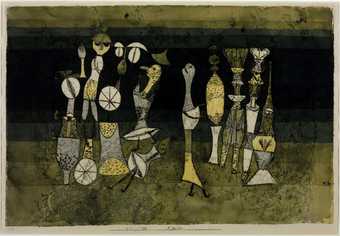 Moreover, St Christopher had initially sought out the devil and served him; he was not all goodness. Klee, too, was open to darkness, to imagining fish with sharp teeth that devoured tiny human beings, to creating figures that could be at times good angels and on other occasions the angels of death, to presenting soldiers harpooning hapless creatures with a look of triumph.
Others at the Bauhaus had similar impressions of Klee. Will Grohmann, who eventually wrote a book about the artist, claimed that Klee, ever reticent to engage with his fellow human beings, 'held the world at arm's length'. The painter Jankel Adler, seeing a window of Klee's house from afar, would study the artist's 'pale oval face, like a large egg, and his open eyes pressed to the windowpane. From the street he looked like a spirit.' Adler also gives of picture of Klee in the act of painting:
He used to gaze for a long time at his prepared canvas before he began the drawing… I have never seen a man who had such creative quiet. It radiated from him as from the sun. His face was that of a man who knows about day and night, sky and sea and air. He did not speak about these things. He had no tongue to tell of them. Our language is too little to say these things… Klee, when beginning a picture, had the excitement of a Columbus moving to the discovery of a new continent. He had a frightened presentiment, just a vague sense of the right course… Klee set out to discover a new land.
This is how Klee was to everybody: openly fearful, yet infallibly intrepid. He was always on an adventure. He was still encountering demons, just as, when he was four years old, he studied the marble table tops in the restaurant his uncle owned in Bern and saw grotesque faces staring up at him. The veining of the stone became, to the little boy, the forms of contorted figures. At the same age, he ran to his mother when he believed that the evil spirits he had drawn 'suddenly acquired real presence'. He also told her 'that little devils had peeked in through the window'. All his life, he remembered a dream he had had when he was even younger, about the age of three, in which he saw what he believed to be the sexual organs of the family's maid, consisting of four infantile penises arranged like a cow's udder. His imagination and propensity towards unusual visions was still present in his adulthood.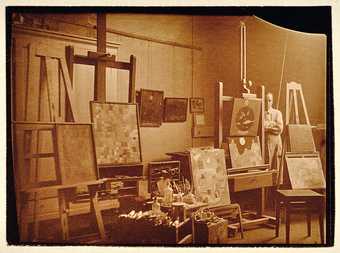 This was how his students, and fellow faculty, saw Paul Klee: as someone of boundless imagination and no taboos. He talked about things other people did not talk about. He loved recalling that his doting maternal grandmother, who gave him the box of brightly hued chalks with which he made his first drawings, and who insisted he be allowed to continue writing and drawing with his left hand even when his aunts wanted such 'nonsense… knocked out of him', was so attentive and kind that 'she used a particularly soft kind of toilet-paper on me, so called silk paper!'
He was lost in the cosmos yet down-to-earth, completely spiritual but grounded. Ludwig Grote, who ran a museum near the Bauhaus and was a great supporter of the school, told Felix Klee 40 years after the Bauhaus had closed:
One was deeply touched by the aura that emanated from him and instantly seized by the feeling of standing in front of a person who had deep insights. One could feel that he knew more than all of us and that he was very wise. I was always moved by reverence/awe when we met. I felt my own inadequacy and didn't dare to speak – although Klee didn't emanate anything priest-like or overly self-confident.
The artist was not intimidating or haughty; it was simply that he lived on another sphere, and made most people feel, somehow, too normal, less poetic than he was, less instinctively liberated. Many years ago, I had the good fortune to have Edward M.M. Warburg, an American art collector, tell me about going to see Klee at the Dessau Bauhaus in 1931, and feeling much as Grote did – almost unable to speak, in awe of the magical human being he was then meeting for the first (and only) time. Warburg, 23 years old at the time, had been among the three students to create the Harvard Society for Contemporary Art, where, two years earlier, they had shown some of Klee's work. Now he had secured a letter of introduction to the man himself from the art dealer Curt Valentin. He arrived eagerly at Klee's front door on Burgkuhnauer Allee, but refrained from knocking when he heard the sound of someone playing Bach on the violin. The young heir to banking and railroad fortunes sat on the porch and waited until the sonata was over. When Klee opened the door holding the violin bow with his other hand, he realised who had been playing so professionally.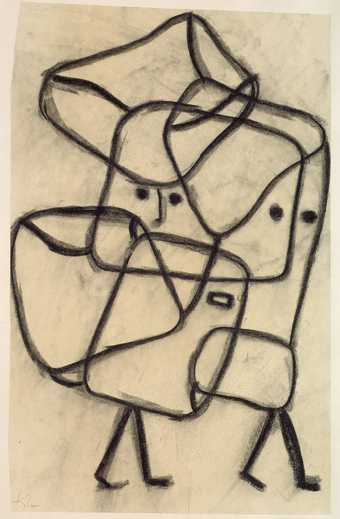 Once inside, Warburg was overwhelmed. First there was the sight of the intense dark-eyed artist in the sort of white coat worn by surgeons. Although he had presented himself unannounced, his letter of introduction as well as his sympathetic manner and fluent German gained him a warm reception and an invitation to take a closer look at the many paintings covering the walls and propped on numerous easels. He didn't know how unusual this was – the norm when Klee received visitors was to lead them first to his aquarium, where he would gently prod certain fish so that they moved to reveal even more exotic varieties hidden behind them. Equally, Warburg did not realise that he had a gentleness and vulnerability and originality that were the sort of qualities that made his host respond to another person with a rare sense of connectedness.
Warburg rather timidly said he would love to buy a painting, and was invited to go through some works on paper. When he attempted to prevent Klee's pet cat from walking across a watercolour he was holding, the artist smiled and urged him to let the cat do as he wanted. The work, however, was still wet. Warburg panicked, saying he was terrified the cat would leave a paw print. Klee simply laughed. He said that the paw print would later on be a great insoluble mystery: 'Many years from now, one of you art connoisseurs will wonder how in the world I ever got that effect.' Klee, after all, was as at home with cats as with people. When he made his daily walks through the park, he felt himself to be part of the entire cosmos – somehow at one with the butterflies and worms, with the plants as well as the clouds. This was part of what made the man, like his art, unique and utterly extraordinary. Klee wrote the words for his own tombstone:
I cannot be grasped in the here and now
For I live just as well with the dead
As with the unborn
Somewhat closer to the heart
Of creation than usual
But far from close enough.
He had a mixture of humility and confidence, or whimsy and wisdom, unlike anyone else's.